It's going down! This is the place to be for live coverage of (what we can only assume is) Apple's tablet launch event — possibly the most hyped Apple introduction since the original iPhone. Read on, because tablet or no tablet, this is going to get interesting. Subscribe to future gdgt events here:
iCal
,
feed
7:54PM - Thanks for reading everyone, we'll see you next time! Again, big ups to my main man Chris Grant of Joystiq, the fine folks at HyperMac for providing my (portable) electricity, and the awesome team at the Rackspace Cloud for powering today's live coverage!

And don't forget to add the iPad to your Want list, of course!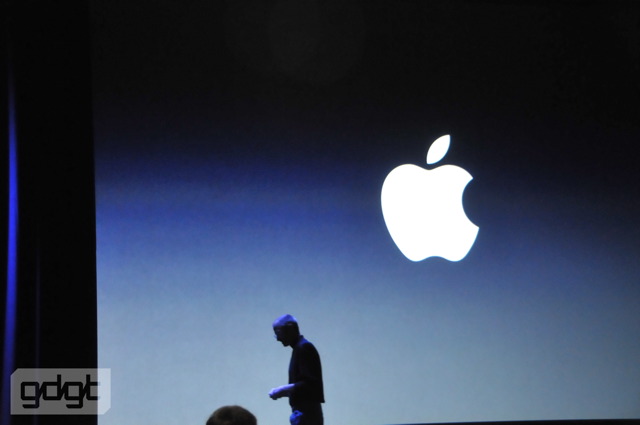 7:51PM - Anyway… "Let's go back to the beginning. Do we have what it takes to establish a 3rd category of products? An awesome product between the laptop and the smartphone. The bar is pretty high. We think we've got the goods. And because we've shipped so many iPhones and iPod touches, there are already over 75 million people who know how to use the iPad.

Users have downloaded over 12 billion products. We are at scale and we are ready for the iPad. To sum it up: it's our most advanced technology in a magical and revolutionary device, at an unbelievable price. We think this is going to be a really great combination."

The reason we've been able to create products like this is because we've tried to be at the intersection of technology and liberal arts. We make things that are easy to use, fun to use — they really fit the users.

So we've got a hands-on area, we'd like you to get your hands on an iPad. When you feel all this power and this much fun and the internet in your hands, you'll never want to go back." Applause — that's it!
7:51PM - Okay, weird, right at the end something got funky on our backend!
7:27PM - Will people buy it in droves? Is there actually room for a device between smartphones and laptops? That I don't know — I've always been skeptical there's room for a third category in there. But if there is a contender for this space, the iPad is it.
7:26PM - Yeah, you know, this video does a pretty good job of putting this stuff in perspective. iPad is pretty amazing — there, I said it.
7:24PM - "It just feels right to hold the internet in your hand — when you see something, you just reach out and tap it. You don't think about it… you just DO." Yeap.
7:23PM - "The face of the product is defined by a single piece of glass… there's no right or wrong way to hold it… it fits me."
7:22PM - Showing a video!
7:22PM - "When you really need to do a lot of typing, this is the way to go. If you've got to write War and Peace, just plug your iPad in." Third accessory is "a really nice case."
7:21PM - Keyboard dock!
7:21PM - "We've got some great accessories as well — let me show you a few." Dock!
7:20PM - "Within about 90 days we'll be shipping 3G models. Soon you'll be able to get an iPad in your hands for just $499." Applause.
7:20PM - "We will be shipping iPads in 60 days."
7:20PM - "So $499 / 629, 599 / 729, and 699 / 829."
7:19PM - Cheering! "At $499 a lot of people can afford an iPad. 16GB is our base model. For 32GB it's $100 more, and for $100 more than that you get $64GB. The 3G models cost another $130."
7:19PM - "I'm thrilled to announce to you that the iPad pricing starts not at $999, but at $499." Huge applause.
7:18PM - "We want to put this in the hands of LOTS of people. Just like we were able to meet or exceed our technical goals, we've met our cost goals."
7:18PM - "If you listen to the pundits, we're going to price at under $1k, which is code for $999. When we set out to develop the iPad, we not only had very ambitious technical goals and user interface goals, but we had a very aggressive price for it."
7:17PM - "What should we price it at?" Chuckles.
7:17PM - Steve's in review mode: "Email is fantastic. Great for enjoying your music collection. Video is phenomenal. It runs almost all of the 140k apps on the App Store as well as a whole new generation of apps designed specifically for the iPad. And the new iBooks application with the iBooks Store. And the iWork suite of apps."
7:16PM - "If your carrier uses micro-SIMs, there's a very high likelihood it'll just work." Applause. "So… iPad. It's phenomenal. The whole internet in your hand."
7:16PM - "We think it's a phenomenal offering. So what about internationally? We hope to have our international deals in the June-July timeframe. We think we can do a lot in June, we'll start on that tomorrow. However all models are unlocked and use GSM micro-SIMS."
7:15PM - "AT&T's throwing in free WiFi hotspot use, too." Great, because their network certainly won't be working well enough to depend on this. "There's no contract — it's pre-paid. You can cancel at any time."
7:14PM - "If you feel you need more, we have an unlimited plan for just $29.99. Real breakthrough prices. We've got a breakthrough deal with AT&T who is providing the service." Ouch.
7:14PM - "We've got a real breakthrough here. Two awesome plans. The first is up to 250MB per month — a fair bit of data, most people will get by on that — for just $14.99." Bit applause.
7:13PM - "Now, what does it cost for the data plans? In the US cellphone companies typically charge $60 per month for a data plan for a laptop."
7:13PM - "This is a real benefit. Now, I'd like to talk about wireless networking. Every iPad has the latest and greatest WiFi. But we're going to have models with 3G built in as well."
7:12PM - "I'd like to talk for a minute about iTunes. The iPad syncs over USB with iTunes exactly like an iPhone or iPod touch. So when you sync, you sync everything. Photos, music, movies, TV shows, contacts, calendars, bookmarks, apps…"
7:12PM - Steve's back: "Isn't it great?"
7:11PM - Compatible with Mac versions, and "you can easily connect to a projector with a small cable."
7:11PM - Showing forms, too. "That's a quick look at iWork on the iPad." Applause. "They show the immense potential of the iPad. Apps like this are amazing, so what are we going to charge for this? $9.99 each." Applause.
7:09PM - Showing the spreadsheet-centric soft keyboard. Auto-fields and sums showing as inferred. Pretty neat for a spreadsheet. Then again, it's still a spreadsheet.
7:07PM - Showing Numbers now. "Let's do some typical spreadsheet tasks — without a keyboard and mouse."
7:06PM - Now's probably a good time to go add the iPad to your gdgt Want list, too. We also just turned on gadget voting at gdgt main, tell people what you think about this thing!
7:05PM - Phil's done showing off Keynote, big applause. Showing Pages now!
7:04PM - Don't forget to go check out our iPad discussions!
7:02PM - Navigating slides — holding down slides rearranges it. Tap multiple slides then do the move brings them as a bundle (neato!).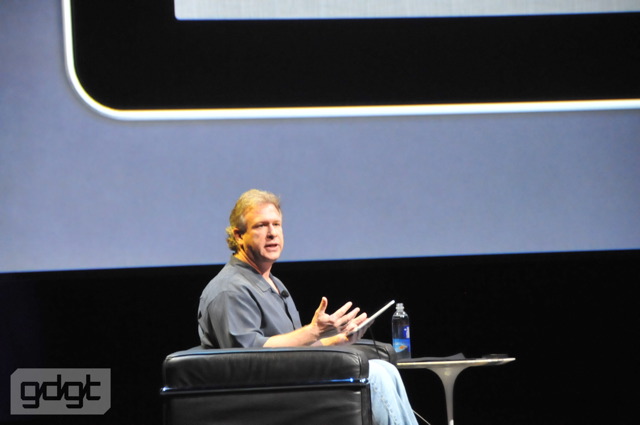 7:00PM - "The only way to appreciate how amazing this software is, is to show you, and I'm honored to be the first to show you iWork apps for the first time on the iPad." First up: Keynote.
7:00PM - Phil's up! "As Steve told you, the iWork team has been hard at work for a year now. I think we've done some amazing and remarkable work. A completely new version of Keynote, Pages, and Numbers…"
6:59PM - "I asked our team to take a look at iWork on the iPad." Apparently Steve's team wasn't stoked at first, "but eventually the answer was youbetcha." Rebuilt iWork UI!
6:58PM - "Now, something very exciting: iWork."
6:58PM - Browse TOC, change the font or the font size, all the standard stuff. "And that is iBooks." Big applause. "We use the ePub format, the most popular open book format in the world, and I'm very excited about this. We think the iPad is going to make a terrific e-book reader not just for popular books, but for textbooks as well."
6:56PM - Tap right or left to change the page — or drag the page manually. Very nice!
6:56PM - Steve's showing the store. Looks pretty amazing. Teddy's book is $14.99. "It's just so simple!"
6:54PM - "We're very excited about this." I think Steve said this is opening up this afternoon, but don't quote me on that!
6:54PM - Somewhere Jeff Bezos just did a spit take. Well, probably not.
6:54PM - "It looks like a bookshelf — and there's a button to a store. It's an iBook Store to allow you to discover, purchase, and download e-books right on your iPad."
6:53PM - Our new app is called iBooks.
6:53PM - "Amazon's done a great job of pioneering this functionality with the Kindle. We're going to stand on their shoulders and go a little further."
6:53PM - "Isn't that awesome, these guys only had a couple weeks to work on this stuff. People are going to go crazy. Let me show you another one of our apps we're excited about. It's an e-book reader."
6:52PM - "We're incredibly excited for the opportunity for developers to build amazing apps for the iPad. And as we wait for those apps to come out, we can run all our existing apps on the iPad. And that's the app story!" Steve's back.
6:52PM - Game video with overlays, this is pretty dope. If you're a baseball fan, seems like this is probably going to be your new preferred viewing experience. Scott's back.
6:50PM - Scott: last up is MLB.com! Pretty intense, computer modeling of real games and inline video.
6:48PM - Touch and accelerator-enabled (of course). Tap the mirror to look behind. "A game like NFS really pushes the limits, so we wanted to show you just how fast this can really go."
6:47PM - Showing Need For Speed Shift.
6:46PM - Scott: "Imagine artists can carry this wherever they go, including art students. And it's only a pound and a half." EA is up next!
6:44PM - Next up: an app called Brushes, an art browser and painting app.
6:43PM - "We're incredibly psyched to pioneer the next generation of digital journalism." Ha, Martin Nisenholtz said "psyched."
6:42PM - "It captures the essence of a newspaper, but it's so much more." Reading syncs to the iPhone app. Inline video clips. So awesome.
6:41PM - Martin: "Steve showed you the NYT site on the iPad, it's unbelievably beautiful. Why did we come out three weeks ago to develop an app for the iPad?" Wait, three weeks? Scott said peeps had 2 weeks. Anyway! "We think that we've captured the essence of reading a newspaper… all in a native app."
6:40PM - Next up: New York Times. "They've been publishing for over 150 years — it's commonly referred to as THE paper of record. To tell you about their plans for the iPad, I'd like to invite up Martin Nisenholtz."
6:39PM - Showing first-person shooting with multi-touch, like target acquisition by drawing a graph in your HUD. Pretty neat!
6:38PM - Showing a title called Nova. This looks pretty decent, but still a tiny bit choppy. But hey, this was done in two weeks, so I'm gonna cut these guys some slack.
6:37PM - "We're really excited about the possibilities for developers on the iPad. About 2 weeks ago we invited some developers to Apple to give them a sneak peek and see what they can build in just a couple weeks." Starting with the "largest" game developer on the App Store: Gameloft.
6:35PM - "If the developer takes the time, they can also take full advantage of the large touchscreen display in the iPad. We did that with our own internal apps, and we expect developers will want to do that too." New SDK out today including iPad tools.
6:35PM - Showing Snowcross, a snowmobile game. "There you go, right out of the App Store, unmodified. All the apps you know and love will run right now on your iPad."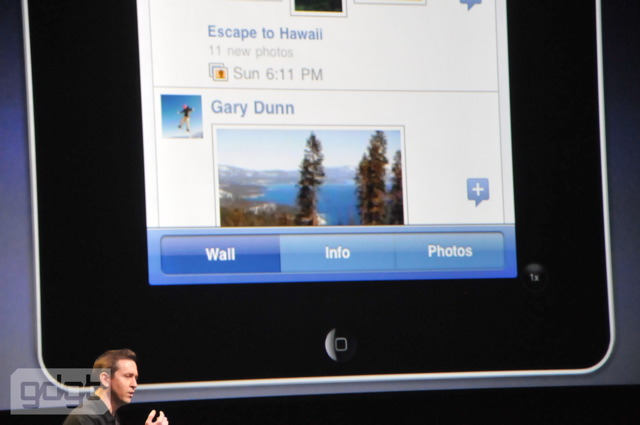 6:32PM - Showing Facebook app: "This is the app you know and love." Tap on the 2x button, it scales the app up to full-screen.
6:32PM - "We built the iPad to run virtually every one of these apps unmodified right out of the box. We can do that in two ways — do it with pixel for pixel accuracy in a black box, or we can pixel-double and run them in full-screen. This is really cool." Demo!
6:31PM - "Environmentally, the iPad is a good citizen. That's a little bit of an overview of the iPad's hardware. Let's go back to software. We've seen great built-in apps. But let's talk about 3rd party apps. To help me do that: Scott Forstall, SVP of iPhone software." Scott's up!
6:30PM - "In addition to this battery life, it's got a month of standby life. It's remarkable."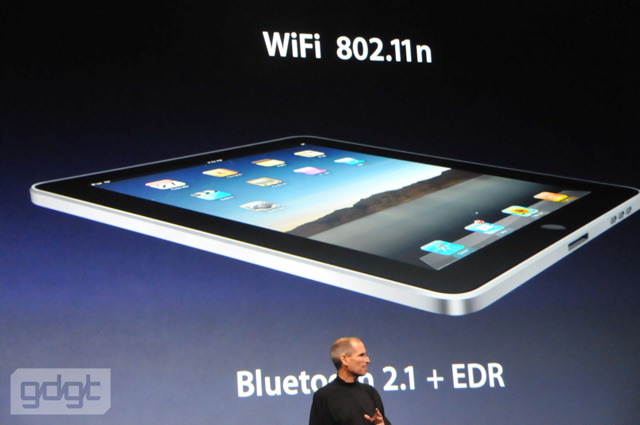 6:30PM - "What's the battery life on this remarkable device?" Pauses. "We've been able to achieve 10 hours of battery life." Big applause.
6:29PM - "All the usual suspects: accelerometer, compass, speaker, mic, dock connector. And it's got battery."
6:29PM - "iPad is powered by our own custom silicon. Our own chip. It's called the A4, and it screams." 1GHz. 16, 32, or 64GB of flash storage. "It's got the latest in wireless: 802.11n, WiFi, and Bluetooth 2.1 + EDR."
6:28PM - "As you know, Apple builds the best capacitive multi-touch sensors in the world — married to our great display, it's super responsive and super precise."
6:28PM - "It's 0.5-inches thin, weighs just 1.5 pounds. Thinner and lighter than any netbook. 9.7-inch IPS display."
6:27PM - "That is video on the iPad. So that's a bit of an overview as to what the iPad can do." Big applause. "Watching it is nothing like getting one in your hands."
6:26PM - Showing movies and TV shows. Widescreen looks a little awkward because the screen is more square than widescreen, but it's still damned fine. "Let's pick another movie I love: Up." chuckles. "Awesome movie."
6:25PM - Street view support looks pretty amazing. "Let me show you video, it looks wonderful." Showing HD YouTube playback.
6:24PM - Showing calendar and maps, both look pretty amazing on this display.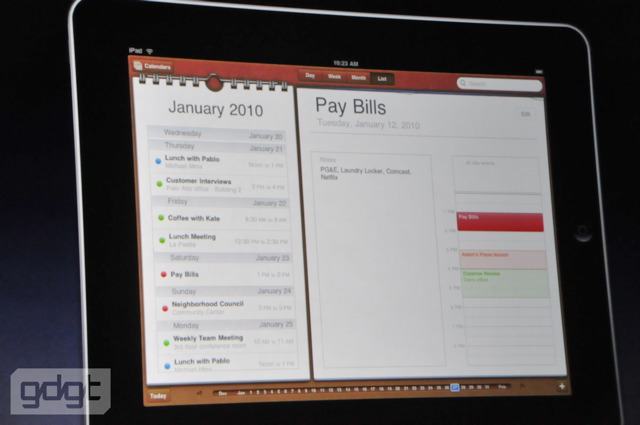 6:23PM - iTunes store. The UI on this thing is pretty intense, so far. Everything is familiar, but it's all totally different from iPhone and OS X — this is a big launch for Apple. As if you hadn't already noticed.
6:22PM - Music, large iTunes LP album artwork. Naturally Steve had to get an "It all works!" in there.
6:20PM - Built-in slideshows. Music playing with the slides and transitions. Looks pretty damned good!
6:20PM - Photo scrubber bar at the bottom. "It's really wonderful."
6:19PM - Next, photos! Flick through — albums too. "If I'm on a Mac, I can get events, places, and faces from iPhoto." Neato.
6:18PM - "That's how simple mail is. If I want to reply to a message, up pops this gorgeous keyboard." Steve is typing with two hands on his lap — not using thumbs. Very interesting.
6:17PM - "This is gorgeous. Right in the palm of your hand. Let's go to email." Man, I dunno, there is like too much room! Horizontal email view is pretty sweet though, finally two pane!
6:16PM - "Going to Fandango — grab the tablet that's in the kitchen, buy some tickets. It's that simple." It sure is, Steve.
6:15PM - Going to the Time site. The scrolling is super smooth, it's pretty damned nice.
6:14PM - "Let's go right to the web. Here we are at the NYT — you can see how fast this is."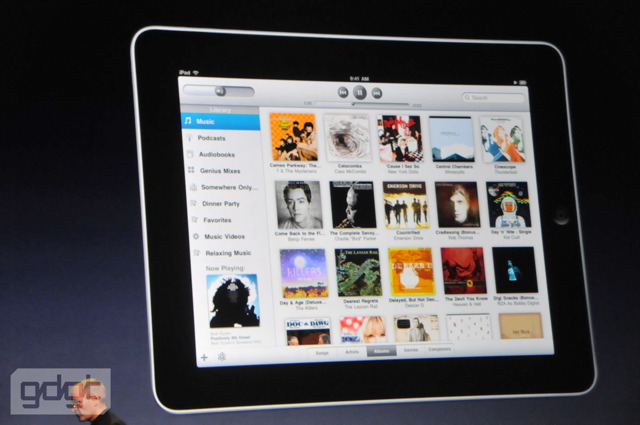 6:14PM - "That's a little overview, but there's nothing like seeing it, so I'd like to show you now. Using this thing is remarkable — it's so much more intimate than a laptop, and it's so much more capable than a smartphone."
6:13PM - "iPad is an awesome way to enjoy your music collection. And, of course, we have the iTunes store built right into the iPad."
6:12PM - Photos: "Flick through them, it's a wonderful way to share your photos. Built in a calendar. Address book, great maps app with Google Maps."
6:12PM - Email with a giant on-screen keyboard: "It's a dream to type on."
6:11PM - "You can see the whole page in front of you and you can manipulate it with your fingers. You can turn it any way you want — it adjusts however you want it. You can see the whole page — it's phenomenal. It's an incredible experience."
6:11PM - Steve's showing it. "It's very thin. You can change the home screen… what this device does is extraordinary. It's the best browsing experience you've ever had."
6:10PM - "Let me show it to you now."
6:10PM - Huge applause.
6:10PM - iPad.
6:09PM - "It's got to be better at these key tasks otherwise it has no reason for being. Some people have said: oh, that's a netbook. The problem is netbooks aren't better at ANYTHING." Applause. "They're just cheap laptops."
6:09PM - "That's a tall order — better than a laptop at browsing the web? Enjoying and sharing photos, videos, enjoying music, playing games, reading e-books."
6:08PM - "In order to create a new category of devices, those devices will have to be far better at doing some key tasks — important things — better than the laptop and smartphone. What kind of tasks? Things like browsing the web…"
6:08PM - iPhone, MacBooks — "Everyone uses a laptop and/or a smartphone. The question has arisen lately: is there room for a third category device in the middle?"
6:07PM - "Let's get to the main event." Murmurs. "Before we get to that [the tablet], I want to go back to 1991. Apple invented the modern laptop computer with our PowerBooks. The first laptop with a TFT screen, that pushed the keyboard up and had an integrated pointing device."
6:06PM - "How do we get this revenue? iPods, iPhones, MacBook laptops… Apple is a mobile devices company, that's what we do. We asked ourselves: how do we stack up? Well, Apple is the largest mobile devices business in the world today." Bigger than Sony, Samsung — bigger than Nokia (by revenue). "Apple is the number one mobile devices company in the world!"
6:05PM - "Lastly, we started apple in 1976 — 34 years later, we just ended our holiday quarter with 15.6 billion in revenue." Big applause. "That means Apple is over a 50 billion dollar company — I like to forget that, because that's not how we think of Apple, but it's pretty amazing."
6:04PM - "We have over over 140k apps in the app store. And a few weeks ago we announced users have downloaded 3 billion applications."
6:03PM - "Last holiday quarter we had over 250 million visitors to our stores." Talking about the new New York stores. "It's so wonderful to be putting these stores right in the neighborhoods of our customers. It feels good. Next update: app store."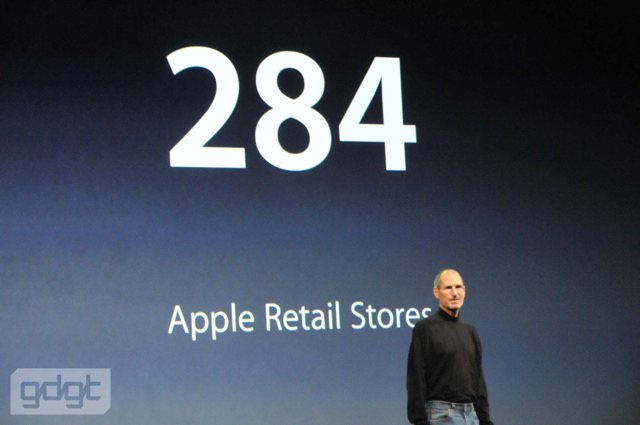 6:02PM - "I didn't want to let this one pass without recognizing that it's pretty amazing. Second update: retail stores. We have 284 retail stores, it's amazing."
6:02PM - "Before we get to that, I've got a few updates." Chuckles. "First: iPods. A few weeks ago we sold our 250 millionth iPod." Big applause.
6:02PM - "Good morning, and thank you all for coming today. We want to kick off 2010 by introducing a truly magical and revolutionary new product."
6:01PM - Standing ovation towards the front — hooting and cheering! "Thank you."
6:01PM - Steve is out! Huge applause.
6:01PM - Lights are coming down! Dylan's "Like a Rolling Stone" is closing…
5:59PM - Yep, all Dylan jams this time. This is definitely a Steve event.
5:57PM - Oh hey, Al gore! People are getting seated, looks like we're getting started on time today.
5:55PM - Also, big ups to my boy Chris at Joystiq for lending a hand with our live coverage!
5:54PM - Tim Cook, Phil Schiller, and other senior execs up front talking and laughing. Everyone looks pretty jubilant!
5:49PM - House WiFi is crazy slow right now, hopefully things hold out for the event!
5:44PM - There's a small Saarinen table on stage, as well as a Le Corbusier seat. Is Steve going to take a seat and wax poetic about his years in the biz?
5:41PM - Alright, we're in! Dylan playing on the PA — Steve's favorite!
5:28PM - Doors opening in just a sec! (Photos are coming!)
5:17PM - Alright, we're in! Doors aren't open yet though, so we're huddled in with all the other reporters and guests.
5:05PM - Yowch, media line this time is fairly crazy! Standing by for admission.
5:01PM - Almost to the event!
4:29PM - Also, be sure to check out the "iSlate" page on gdgt, it's where all the news and discussions about the Apple tablet is going down. (Yes, we'll change the name when/if Apple announces the damned thing today!)
8:19AM - While you're killing time waiting for the keynote to start, make sure you check out some of the contests we've got running right now!

We're giving away a Sony DSLR-A330 camera, Sony HDR-CX100 HD camcorder, and Sonos S5 wireless music system — all pretty amazing devices. Go on, we'll still be here.
8:18AM - I know, the suspense is killing me, too. Check back later this morning for live coverage!