Apple's announced its annual fall event, where we all get to discover what kinds of brand new media devices available for purchase this holiday season. But will there be an app-store enabled Apple TV this year? We'll find out soon enough: check back here for live coverage! Subscribe to future gdgt events here:
iCal
,
feed
11:29AM - P.S. -Don't forget about the after-party!
11:27AM - Thanks for reading everybody! We'll see you next time.
11:27AM - Guess not! Steve: "Thank you for coming this morning. I hope you're as excited about this stuff as we are, and we'll see you soon. Thank you very much!" Coldplay plays us out.
11:26AM - He's out! Steve's applauding on stage. It's starting to look like an encore might go down, though.
11:23AM - Mic stand just got brought out, guess that means we might have someone else coming out. "That might be a good finish, is Steve around to tell me what to do?" Crowd's yelling for more. "I'm afraid I've played all the hits, now for some misses. This is a new song we're working on called Coldplay 2.6. It features 7 different types of chord, not even our closest competitors know about it. Jony Ive's designed it. This is iMinor."
11:20AM - While we're jamming out to Coldplay here, I'd like to take a moment to give a huge thanks to the always excellent team at the Rackspace Cloud for powering today's live coverage!
11:19AM - Chris: "This is a true story. We recorded this song and our record company said it was a pile of something terrible. Then Apple pushed it and it became our best selling song ever. [Talking to Apple execs up front] Just proves that your marketing people can sell ANYTHING."
11:16AM - Still, if you haven't already registered as gdgt user, head on over and add the Apple TV 2nd-gen, iPod touch 4th-gen, iPod nano 6th-gen, and iPod shuffle 4th-gen to your list!
11:14AM - Well, that's about it! Once they trot out the musical act, the product announcements are done. I'm just glad Chris Martin's here to capture our sadness over the continuing lack of apps on the Apple TV.
11:13AM - "This is probably the toughest closing gig I've ever had. I wish the rest of the band were here, but… they're too busy." Laughter.
11:12AM - Steve's going on about Coldplay's accolades. "Please welcome Chris Martin."
11:11AM - "And there's no better way to do this than to ask one of our favorite musical artists to perform. We did that, and he accepted." Coldplay, damn.
11:11AM - Ah, Steve's pensive moment at the end where he intros an artist: "Now, we started doing this music stuff for a simple reason: because we love music. Whenever we have our music events, we like to remind ourselves why we do this."
11:10AM - "And Apple TV… so those are the products we have to launch today, and I hope you're as excited about it as we are."
11:10AM - "And a new iTunes with iTunes Ping, a social network for music. We think it's going to be really popular very fast. And it's on your iPhone and iPod touch. We think it's going to be a real winner."
11:09AM - "So here we are on September 1st. Let's review. The strongest lineup of iPods ever. Beautiful shuffles… iPod nano no so small and compact… and the new iPod touch including FaceTime. The strongest lineup of iPods we've ever had to go into this holiday season."
11:08AM - "It's available in 4 weeks, pre-order today."
11:08AM - "The price of Apple TV is $299. Users wanted to see that come down. And so we're going to lower the price from 299 from the old Apple TV to just $99." Big applause and shouting. Relax, nerds!
11:07AM - "You're going to be able to watching a movie, walk into your living room, and push a button and watch the rest of it on your Apple TV. Walk into your home with photos on your iPhone, push a button and share a slideshow on your TV. It's going to be pretty cool."
11:06AM - "One of the things we can do with AirPlay is stream content from an iOS device to an Apple TV." Steve's playing Up from his iPad. "Now when I'm playing it, I can bring up the controls, and there's a new button. I can just push it, and I can decide where to stream it to. And there we go." Whooping from the back.
11:05AM - "So that gives you an overview of Apple TV. Now let me show you something else that's really cool. We talked about AirPlay before, and that's coming in November with iOPS 4.2."
11:04AM - "This is by far the best implementation of Netflix, too. It's easy to use and the quality is great." You don't say!
11:02AM - If you've seen the latest UI for the Apple TV, you're probably pretty familiar with most of how this looks and works. Was kind of hoping for more improvements here.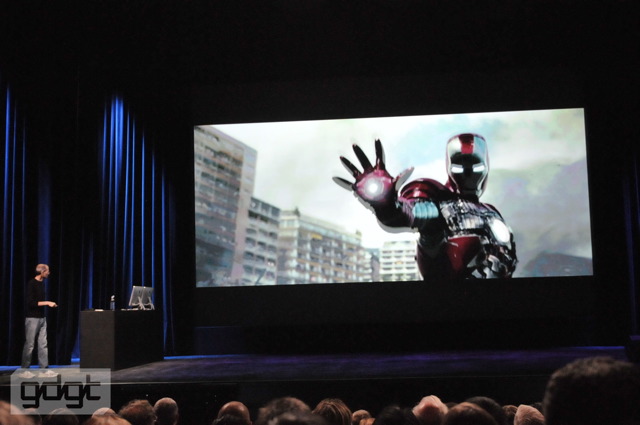 11:01AM - Still nothing on apps, or whether the Apple TV is actually going to be an extensible platform. C'mon Steve, don't blow this thing!
11:00AM - Steve's still reviewing. Netflix looks pretty good, can't wait to check that one out. It'll only be the 90th device I have in my living room that streams Netflix. Steve's pulling up the new Apple TV for a live demo.
10:58AM - Go add the new Apple TV 2nd-gen to your want list! I know I'm going to as soon as I'm done liveblogging this thing.
10:58AM - "This is what the UI looks like." No apps menu that I see.
10:57AM - Only ABC and Fox are piloting. "We think the rest of the studios will see the light and get onboard. If you're a Netflix subscriber, you can stream content from Netflix's library. You can also watch YouTube in HD, photos off of Flickr, and video and photos from MobileMe. Again, you can stream content off your Mac or PC."
10:56AM - "So what about content? We have the largest library of movies in the world. You can rent first-run HD movies for $4.99 day and date they come out on DVD!" TV show rentals, commercial-free: 99 cents. Big applause.
10:55AM - "It's got a great remote, and it's really easy. It's all HD (when the content's available. We've gone to the rental model, there are no purchases anymore. There's no storage, because it's all rental. It's so affordable you can rent something several times for less than buying it. And you can stream from your computer."
10:54AM - "On the back it's really simple. It's got the power supply built in. One HDMI connector. And if you have Ethernet, it's built in, but if you don't we've built in WiFi. You plug in these two cables and it's on your network, and that's all you have to worry about."
10:53AM - "It's a fourth of the size. You can hold it in the palm of your hand! Look at this, that's it! It's this little tiny box!"
10:53AM - "And so we've made something new for them. We're introducing the second generation of Apple TV today, and this is what it looks like." Damn that's small!
10:53AM - "People don't want to think about managing storage, they just want to watch their shows. They don't want to sync to a computer, most don't even know what that is. And they want whatever the hardware is to be silent, cool, and small. This is what we've learned, and it's quite a bit different than a lot of other companies think."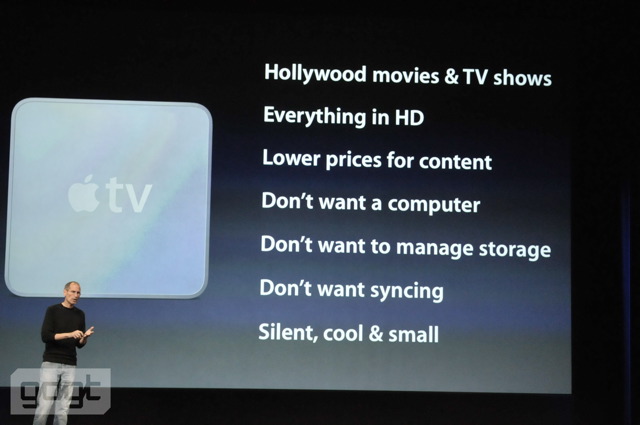 10:52AM - "The HD revolution is over, HD won. They want lower prices for content. They don't want a computer. This is hard for people in the computer industry to understand, but it's very easy for consumers to understand. They don't want to manage storage."
10:51AM - "We've talked to people who have Apple TVs, and they love them, a lot! What have we learned? The number one, two, and three things they want: Hollywood movies and TV shows whenever they want them. They don't want amateur hour, they want professional content. And they want HD."
10:51AM - "Of course we're talking about Apple TV. Now, we introduced Apple TV four years ago. We've sold a lot of them, but it's never been a huge hit. Nor has any competitive product."
10:50AM - "Actually, it's one more hobby." You know what that means.
10:50AM - iTunes 10 is available today, applause. "So that is what we're doing with iTunes, I think it's going to be pretty hot. So, iOS, iPods, iTunes, not bad for one day. But we've got one more thing."
10:49AM - Apparently Steve is going to see Tegan and Sara live. "It's that simple, a social network all about music. Make sense?" Big applause. "iTunes 10, even further refined, it's going to make your life even more fun, and it's got Ping. Now, Ping isn't just available on your computer, it's available on your iPhone and your iPod touch." It'll be an App Store app, not bad.
10:47AM - Ha, he's showing an artist profile for Katie Cotton (Apple senior communications exec). Apparently she's a closet rap star. Clearly gangsta as hell.
10:45AM - "Post thoughts and opinions as you want to, custom song and album charts, over 17,000 concert listings, and Ping is open to over 160m iTunes users immediately. We're starting with a very large base with iTunes users, and they can sign up for Ping immediately. It's pretty cool, and I'd love to show it to you right now." Demo time!
10:44AM - "Ping is for social music discovery. Follow and be followed — artists will probably want to be followed by anyone, but you can set yourself to be followed by approval only, because maybe I'm particular. You can get as private and public as you want. The privacy is super simple to set up, anyone can do it."
10:42AM - By the way, if you haven't already added the iPod touch 4th-gen, iPod nano 6th-gen, and iPod shuffle 4th-gen to your list, don't forget!
10:41AM - "It's a social network all about music. It's like Twitter and Facebook meet iTunes." Well, alright then. Apple is now in the social networking space.
10:40AM - "One of the biggest things we focused on with iTunes is discovery. With over 12m songs, how do you find out about new stuff? People are always asking what are my friends listening to, what are my favorite artists up to? There's not a great way to do that, there must be a better way. In iTunes 10, we're announcing: Ping."
10:40AM - "This is the venerable logo: since iTunes is about to bypass CDs in sales, we thought it was appropriate to ditch the CD." New logo, looking good. New hybrid view: 5 or more songs from the same list view and you'll get album artwork.
10:38AM - "iTunes is an amazing thing and it's clearly the number one online media store in the world. Today we're very excited to launch iTunes 10, the tenth major version."
10:38AM - "So that's the new iPods. As you know, iPods are part of a great duet with iTunes. And iTunes is also pretty remarkable. People have downloaded over 11.7 billion songs from iTunes, and we're just about to cross 12b. Over 450 million TV episodes, 100 million movies, 35 million books, and over 160 million accounts with credit cards and 1-click shopping in 23 countries."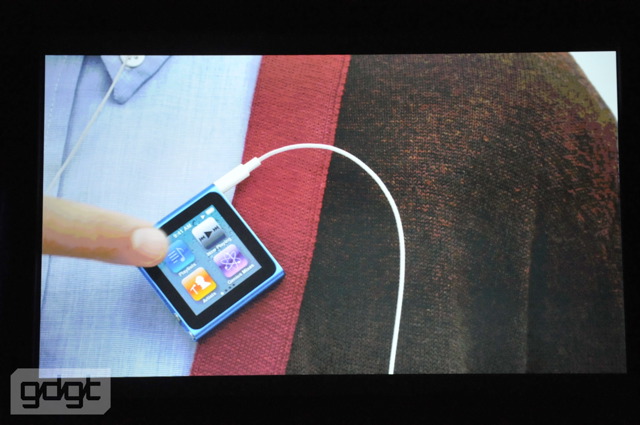 10:35AM - Big applause for Steve. "Wouldn't be Apple without some new ads, we've got some new ones I'd love to show you." Ad time.
10:35AM - "This touch joins the nano and the shuffle for an all new lineup for these holidays. They're available next week, and up for pre-order." So, the iPod classic is finally dead?
10:34AM - iPhones and iPod touches can FaceTime one another. "We're very, very excited about this product. Three models: 8GB for $229, 32GB for 299, and 64GB for 399."
10:34AM - "It's got a rear camera as well with HD video recording." Big applause.
10:33AM - "Even more remarkable is what we put inside it: it's got our amazing Retina Display in it. It's got 4x the number of pixels, it's a remarkable display. It's the best display in the world — and that's what everyone's said who's seen it on the iPhone. It's got the A4 chip, the same chip that powers the iPhone. 3-axis gyro, iOS 4.1 with Game Center, and a front-facing camera with FaceTime.
10:32AM - There's camera alright!
10:32AM - "So, what are we going to do with this really successful iPod touch? We're going to make it even better. It's even. thinner. Go back again — it's even more beautiful."
10:32AM - "But it's also the most popular portable game player in the world. It sells more than Nintendo and Sony combined — 50%+ marketshare worldwide." Huge applause.
10:32AM - "The iPod touch has been a remarkable product for us. It has become the most popular product for us — it used to be the nano. A lot of people call it the iPhone without a phone. But it's also an iPhone without the contract!"
10:30AM - "Comes in the same colors as the shuffle today and two more, graphite and a (Red) version. This is the new iPod nano, sells for $149 in 8GB, and $179 in the 16GB versions. So, a new shuffle, a new nano, and that leaves the iPod touch."
10:29AM - Screen can be rotated if the nano is clipped on in a non-standard direction, nice!
10:27AM - Showing the various apps. Demo time! "Let me show you how it works."
10:25AM - "It's so small, we put a clip on it too. It's 46% smaller and 42% lighter than its predecessor. That doesn't happen very often. Hard volume buttons, VoiceOVer, FM radio, Nike+, pedometer, and 24 languages. 24 hours of audio playback."
10:25AM - "The only way to make it smaller, and that's to eliminate the click wheel, and the only way to do that is to add multi-touch. And that's what we've done: the new iPod nano has multi-touch. It's very tiny. It's amazing and super easy to use."
10:24AM - "The first iPod nano was a stunner when it first came out. Then we took it to extruded aluminum… we gave it a taller screen, and an even taller screen. So how can we make this better? We want to make it smaller."
10:23AM - "That is the new iPod shuffle, and we're just getting started. Now let's look at the iPod nano."
10:23AM - "15 hours of music in this little tiny thing. This is the packaging. It's really cute. It comes in 5 colors, and it sells for just $49." Big applause.
10:22AM - "So what are we going to do? The new iPod shuffle. It's got buttons and VoiceOver and playlists. Of course it's got the clip, and it's got some great features. It's small and wearable, it's got those easy to use buttons, it's got playlists, we're adding Genius mixes, and, of course, VoiceOver."
10:22AM - "Let's start off with the shuffle… it was based on the idea that shuffling was a really good way to listen to music." If you say so, Steve! "We removed the buttons and added VoiceOver and Playlists. People clearly miss the buttons."
10:21AM - "One of the secrets to the iPod's success, we've never rested on our laurels. And this year we've gone wild. We have all new designs for every single model of iPods. It's the biggest change of the iPod lineup EVER."
10:20AM - "Now I'd like to get on to the main entree today: iPods. This is our event where we show new iPods … how many iPods have we sold? 275 million." Big applause.
10:19AM - "When is 4.2 coming out? November! And it's going to be a free update."
10:19AM - Looks like Apple's WiFi just went out, switching back.
10:19AM - Demo time!
10:17AM - Showing printing functionality. Print Center appears with the number of print jobs in the multitasking tray. "Now, what is AirPlay? You know what AirTunes is… listen to music from all over your house from your mobile device. We're changing the name of AirTunes to AirPlay, and it's not just music anymore. You can stream all kinds of media anywhere in your house."
10:16AM - "It's bringing everything to iPad. Multitasking, Game Center, HDR photos, everything you saw is coming to iPad. We're adding wireless printing" big applause, "and a little thing called AirPlay which we'll talk about in a sec."
10:15AM - "4.2 is going to come a little later this year, and it's all about iPad."
10:15AM - Steve's back. "It's on a phone!" Laughs. "It's remarkable. That's just a little peek into Game Center. iOS 4.1 will be available next week, free download via iTunes. Now, I've got a little surprise for you today, a sneak peak at iOS 4.2."
10:14AM - It's got achievements. Mike just got pwned: "This is what you get when you take a designer on at his own game." Big applause.
10:12AM - New FPS codenamed Project Sword. Also, someone in the left aisle just dropped their laptop really loudly. Hope it's alright!
10:11AM - "There's a new game coming out this year that we think is really remarkable from Epic Games." Mike Capps, President of Epic is out.
10:11AM - "Another thing we've built in is Game Center — an API for games, and its an app on the phone. It's all about multiplayer games. You can challenge your friends, and if you don't have any friends, it'll match you." Chuckles. Steve's demoing: apparently he only has 73 friends. Wonder if they'll cap it at 100 friends like Xbox Live. (Doubt it!)
10:09AM - Those shots are looking pretty good! But anyone who's seen HDR photos knows they can look a little unnatural sometimes. Hopefully Apple will have that balanced properly.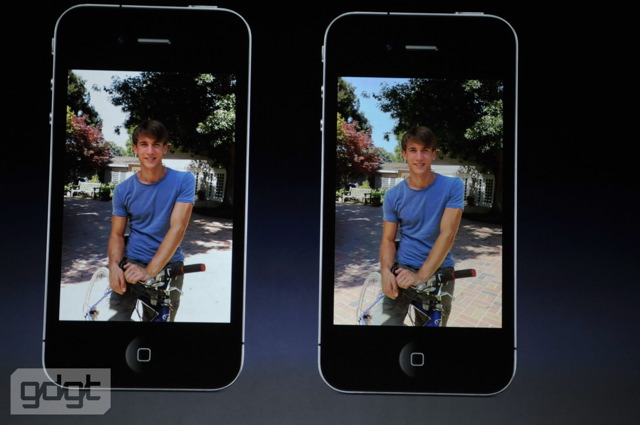 10:09AM - "Let's start off with HDR photos, what are they? A lot of times when you take a photo, it's blown out with bright light. Now, when you turn on HDR, it takes 3 photos in rapid succession: one normal, one under exposed, and one under exposed. It combines the three with some pretty sophisticated algorithms…"
10:08AM - Proximity sensor, Bluetooth bugs, iPhone 3G bugs — "All the bugs we get mail on. We've added a cool new thing: HDR photos. High dynamic range photos. HD video upload over WiFi, TV show rentals, and Game Center is making its debut."
10:07AM - "We've got over 250k apps in the store, of those 25k are now iPad apps. Today we're introducing iOS 4.1, the next release of iOS. Let me go through what it's got. First of all, a lot of bugs have been fixed."
10:06AM - "People throw out a lot of numbers about how many devices they're activating per day." Chuckles. "We are doing 230,000 activations a day. We think our friends may be counting upgrades — if we were counting upgrades, that would be WAY higher. Over 6.5 billion app downloads — 200 apps every second. Oh! Theresanother200hundred!"
10:05AM - "So how many iOS devices have we shipped since we launched it a few years ago? 120 million." Big applause from the Apple peeps.
10:05AM - "Touch UIs were completely different before the iPhone, and mobile apps were COMPLETELY different before the iPhone. It's made these three products possible: iPhone, iPod touch, and iPad."
10:05AM - 80k one to one classes, 50% of users are buying their first Mac. "Things are going well. Now I want to talk about iOS. It's the OS that powers our mobile devices, and it's been a revolution in both touch and apps."
10:04AM - Spain soon, "We'll make it 11. Now, remember where Macworld used to have 30,000 come? Well, we now have some days where we have over 1 million visitors a day." Okay, totally not the same but sure, Steve.
10:03AM - Talking about the new London Store in Covent Garden. Looking good! "We now have 300 retail stores. Covent Garden was our 300th. Some of us remember when we've opened our first, and wow, we've come a long way. We're in 10 different countries."
10:02AM - 40-foot high glass cylinder. Single pieces of glass. "Kind of a landmark in glass engineering." Well, there you have it, Apple, Inc., glass company.
10:02AM - 18 months restoring the building. "It's just a fantastic store. We're also really excited about our second store in China, which we opened recently in Shanghai."
10:01AM - "We've got some really cool stuff to show you this morning." Apple Retail update first. "We've been opening some amazing stores lately."
10:01AM - Big applause and cheering. "Thank you very much. My partner in crime is here today, Steve Wozniak." Big round of applause.
10:00AM - "Good morning." Hey, he's looking pretty good — I think it's because he's finally ditched the old wardrobe and gotten a new set of black shirts and 501s that fit.
10:00AM - Steve!
10:00AM - The lights are starting to go down! Sloooowly.
9:58AM - Oh, and don't forget to log into gdgt (or register if you haven't already) so you can discuss today's coverage!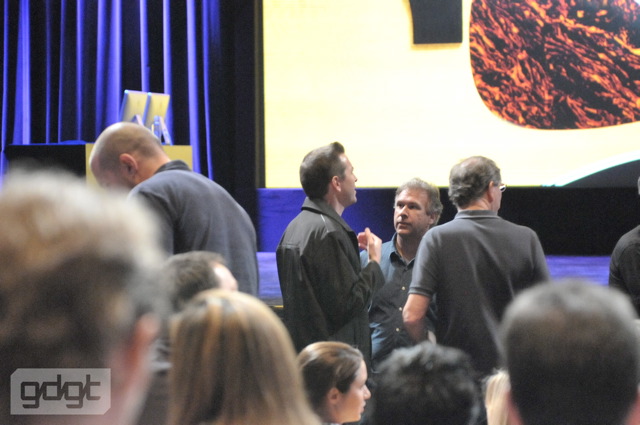 9:54AM - All the players are here: Cook, Forstall, Mansfield, Schiller. No Ive, though, at least not from where we're seated. Maybe he's back up in the balcony. With a monocle.
9:49AM - Alright! We're in and seated, they're playing a cover of the Beatles's We Can Work It out.
9:43AM - Broadcast line is being admitted! We should be heading inside in a few minutes now.
9:31AM - Still gathering folks at the Yerba Buena Center entrance! The sun is hot. Like, non-San Franciscan hot.
8:43AM - Alright, we're here! Checkin isn't until 9, so let the mulling about begin.
8:23AM - Headed over to the event (with a possible caffeine-related stop off), we'll be seeing you shortly!
12:35PM - Check back here for live coverage! Things get started at 10AM PT, we'll see you soon!