It's CES time yet again, and Ballmer will once again take the stage in Vegas to introduce the year's biggest technology show. We've come to expect just as many future-tech demos as announcements at Microsoft CES keynotes, which means if nothing else it'll be damned interesting. Read on for live coverage! Subscribe to future gdgt events here:
iCal
,
feed
4:11AM - Alright, well, thanks for checking out our coverage!
4:11AM - Um yeah, I guess that's it. They just kind of ended it. No closer.
4:10AM - "I want you just imagine what will be conceived with Natal in 10 years, 5 years, even one year… it is the best of software." Looks like that's it?
4:09AM - "When I said 2010 was going to be a big year for Xbox 360, I was lying. 2010 is going to be the biggest year of Xbox history." Aight, I'll buy that.
4:08AM - Big applause. "When we first showed this off, we got an amazing response. … Project Natal will be available this holiday 2010." Applause. "It will work with your existing Xbox 360."
4:07AM - "We knew we had something when we took the first demos of the technology — not only were people smiling, they were saying 'I was actually THERE.' We are essentially calibrating to billions of body types every second. You should absolutely expect the unexpected."
4:05AM - "We're at an exciting inflection point in tech, where we can create an experience that is more simple, more intuitive. With Natal we're freeing you from the last barrier — the controller." Video time, talking to project directors for Natal.
4:04AM - "40 years ago, the mouse has freed us — since that time, we've all tried to conquer the Z-axis." He's talking about spatial and 3D, natural user interface. In other words, he's for sure talking about Natal.
4:03AM - Over 1,000 games coming. Buy once, play on Xbox or PC.
4:02AM - It's an entire virtual arcade in the most literal sense of the term! Sooo awesome.
4:01AM - Zune is now available in 18 countries. Robbie's waxing nostalgic: Game Room is vintage gaming on Xbox Live! Original sound effects! 360 + PC, 30 classics from Atari, Intellivision, etc. Invite friends to the arcade. Daaaamn!
3:59AM - Showing off 1080p on-demand streaming with party mode.
3:58AM - 1/3rd of time spent on Live is in non-gaming activities. 100 million songs downloaded. "In the span of this keynote, over 4,000 songs were downloaded — one for each of you in the audience." Nearly 10 million people have used Netflix, Facebook, Twitter, and Zune.
3:57AM - Xbox is up. Ha, they have Peter's avatar up in the presentation!
3:56AM - Halo Reach coming fall of 2010: for fans who own ODST, you'll get a multiplayer beta on Xbox Live this spring. "This may well be the largest beta in the history of the business."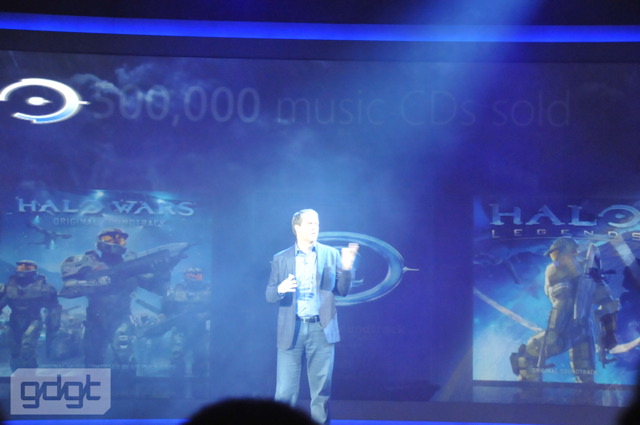 3:54AM - "What Star Wars is to film, what Harry Potter is to fantasy books, Halo is to the video game industry." Showing the Halo Reach demo video released a few weeks ago.
3:54AM - "Imagine: Lost written by Steven King, filmed by David Lynch." You know, I'd almost rather not! "Now, for the game millions have been waiting for…" Halo theme plays.
3:52AM - "I'm excited about a new genre of game we'll introduce this year: the psychological action thriller." He's showing Alan Wake.
3:51AM - "2010 is going to be a landmark year for all Xbox customers for three reasons: first, the best lineup of games, delivered exclusively to Xbox 360. Mass Effect 2, Splinter Cell Conviction, and this Spring, the first content packs for Modern Warfare 2 — exclusively first on Xbox 360." Oh hellll yeah.
3:50AM - "I love this quote from one of the directors of our labs: 'Computer science is the only science bounded solely by our imaginations — and I believe that.'" Talking about Xbox.
3:49AM - "Good evening, as always it's a pleasure to be here with Steve at CES. For me, entertainment in all its forms has always been magical.The rich array of entertainment transports you, allows you to discover the new… part of what I love about working at Microsoft is that software has that exact same effect."
3:48AM - Robbie Bach is up!
3:47AM - Steve's playing another Seth Myers video: "Everything important that has ever happened in technology." Another gut-buster.
3:45AM - Ooookay, that video had NO information. Looks capacitive though.
3:44AM - "Our partners are doing great work with slate PCs that will be rolling into the marketplace this year. This HP is a prototype of a coming slate PC coming this year." Showing a video.
3:44AM - New form-factors… slate PCs! HP, Archos, Pegatron. "Almost as portable as a phone, but almost as powerful as a PC running Windows 7."
3:43AM - "The world of entertainment and content will come in different forms and flavors. But no matter what the source, Windows PCs will offer the greatest variety and the most interesting content and entertainment experiences in the world." Next up: more new PCs!
3:42AM - Demoing Mediaroom, showing the on-demand store — you can get this content on your Windows Mobile device, showing it running on the HD2!
3:40AM - Steve's announcing that AT&T will enable subscribers to use Mediaroom on Xbox consoles. Which is great if you have U-Verse, but so few people do this isn't a particularly significant announcement.
3:39AM - Wrapping up the Windows Media Center demo. "When you add Microsoft Mediaroom to this, you get even more." Mediaroom 2.0 announced tonight — 4m users today. Which, let's be honest, is barely any at all. But still, as far as IPTV goes, this is pretty good stuff.
3:36AM - Uh oh, demo fart! Keyboard went out. They're showing CBS TV streaming with a fully integrated on-demand interface. Very nice!
3:35AM - Showing record up to four HD streams simultaneously!
3:34AM - I can waytch my TV through my PC — starts demo with live content, and of COURSE what should be on TV but some girl taking her top off? I am pretty sure that was completely unintentional. Of course, they changed the channel. Like, fast.
3:33AM - Ha, you can add a snow glob effect on Bing street view. Ballmer's clapping and chuckling.
3:32AM - "Developers baby! I love the people who've built this stuff." Demoing Bing Maps with street view.
3:30AM - Showing off a new Skydrive sharing / collaboration feature. Steve's making a powerpoint that reads: "What's most important? Developers, developers, developers!" Damned straight, Steve! Can I just give a quick shout out to gdgt's kick ass team of engineers? Because they're making all this possible!
3:27AM - Software demo time! Ryan's pretending to be a student to show off how digital reading "has taken off." showing Blio, the Kurzweil e-book system that recently launched.
3:26AM - Showing 3D gaming (Arkham Asylum) with 3D glasses. "Backwards compatible with hundreds of games." Media PCs! Acer Aspire Revo and Dell's being shown off. Now Steve wants to demo "the big TV with the PC built in." But apparently when the power went out they "blew the tube." Bummer, dude.
3:24AM - Still showing off machines — some with DX11. "What's DX11 get you? How about THE MOST REALISTIC GAMING EXPERIENCE ON THE PLANET?" Okay, you got it, Ryan!
3:23AM - Ryan: "We're in Vegas, so you gotta look sexy." Steve: "I dunno!" Huh? Showing a Medion, a Sony, and now the Adamo XPS. ASUS NX90.
3:22AM - All-in-ones: "great for your home office, dorm room, or kitchen." Showing off some off the previously powered-down machines.
3:21AM - "It's clear that Windows 7 is a rising tide that's helped lift many boats in our business. But rather than talk-talk-talk, I'd like to show you what's available and what's coming. Please welcome Ryan Asdourian, senior PM for Windows." We're gonna see some of Ryan's "favorite hardware and software." That Ryan though, not this Ryan. This Ryan is liveblogging.
3:19AM - "Clearly consumers are saying there's never been a better time to be a Windows 7 PC." Talking up partner hardware — always their strongest message, natch. "The range of PCs with Windows 7 is virtually limitless. There's truly a Windows PC for everyone." Over 4 million Windows apps these days.
3:18AM - "But to me, the most important measure of success is what the customers think. Satisfaction has been very, very good: a recent survey shows we had a 94% satisfaction rate with Windows 7." Nearly 300m PCs shipped in 2009. "There's no more popular smart device today in the world than the PC."
3:17AM - "The results are speaking for themselves. Windows PC sales jumped almost 50% during launch — retailers sold 63% more PCs than they did this time last year. Windows 7 is by far the fastest selling OS in history."
3:16AM - Now onto Windows 7: "We want an experience faster, leaner, and less busy. We wanted something simpler to accomplish common tasks. Our customers want to push the capabilities of today's newest technologies." Steve's addressing the CE industry now and their fairly impressive accomplishments in rolling out Windows 7 (if I may say so).
3:14AM - Talking up Windows Mobile — Steve pulled out an HD2: "Here's the HD2, available soon through T-Mobile." Presumably T-Mo US, if Steve's talking about it! Not that you didn't already guess HD2 was coming to T-Mo.
3:13AM - "In entertainment, the Zune HD is getting rave review. Our Zune Marketplace expanded to 17 countries and became the premium video offering in Xbox Live — instant-on 1080p video, just like that. We'll expand Zune to other Microsoft platforms." Like phones, yeah Steve?
3:12AM - Fiat has sold its 1 millionth car with Blue & Me (based on Windows Embedded / Auto). Yesterday Microsoft + Kia announced a new in-car comm system called Uvo. It launches in the 2011 Kia Sorento.
3:11AM - Talking about Bing maps, 3D photos with Photosynth. "We think we're off to a pretty good start. Microsoft and HP will team up — Bing will be the new default search engine, and MSN the default home page on HP PCs sold all over the world." Wait, they weren't already?
3:09AM - "It's also a year in which we made incredible progress with Bing — we added 11 million new users and introduced a new service that really resonates with people. We redefined what search should do for users — we work to understand user intent and anticipate what users are really looking for."
3:09AM - "In coming years, the global middle-class will grow from 1 to 4 billion people — our ability to meet their collective needs is why I'm bullish! Let's look at what we delivered in 2009: Xbox. There are over 39 million Xboxes, and over 500 million games sold for over $20 billion in game revenue. Amazing momentum over the last decade — but this year is what makes me more excited about 2010 than about Xbox ever before."
3:07AM - "We Bing! And we Bing! We Bing! Bing! Bing! At least we do a lot in my world!" Yeah, Steve just said that. Love this guy!
3:06AM - Ha! He's talking about important new Microsoft tech — with a Nook up on the screen. Android much?
3:05AM - "We're going to focus on three things tonight. The increasing importance of change in the screens — the ever-evolving PC and the future of TV. Second is the cloud. Third is in natural user interface — NUI technology. The last few decades have been stunning in the changes they've brought."
3:05AM - "I'm glad we could help Seth out! Last year Robbie Bach and I shared our thoughts on new computing powered experiences, on all the screens in our lives. More than ever, we are delivering the experiences people want wherever they want them."
3:04AM - "Before texting I never sent the wrong person a letter telling them they're a jackass. Thanks technology." Har har!
3:02AM - Sorry, connection crapped out for a second there! Steve introduced a video on how technology has influenced "one random guy's life" — Seth Myers!
3:00AM - Gary's just rattling off Microsoft's various accomplishments, including Zune HD, which is apparently "the first portable media device to support HD video." Yeah, I don't know about that, but alright! "Steve's passion and emotion put a real human face on a very large company. Welcome Steve Ballmer!" He's up!
2:59AM - "This CES has more innovation than nearly any of the 30 years I've attended." Record number of exhibitors and spaces… "And now I'm honored to kick off with Steve Ballmer!" Applause — but wait, Gary's not done. "Microsoft has changed the way we use technology… it is a national crown jewel."
2:57AM - Gary Shapiro's up on stage to intro things, as always. "Happy new year, and welcome to 2010 CES — the world cup of innovation. The last year has been a challenge. The global recession has affected all companies. Fortunately, signs are pointing upward, and I believe CES will be remembered as a turning point."
2:55AM - Just doing some intro videos with the same garbage Black Eyed Peas song that every press event seems to play.
2:53AM - Alright, looks like we're finally getting started!
2:48AM - Stiiiiiill waiting. Lots of techs up on the stage. I wonder how many chairs Ballmer's thrown backstage.
2:42AM - Peter: "You can see all the nagware coming up." Another zing from Rojas!
2:42AM - They're still booting things up. Man, I just hope our wireless coverage holds out!
2:39AM - Power's back! They say they need another 5 minutes.
2:37AM - Seriously though, I've been covering these things for years and I've never seen anything this catastrophic. But hey, at least it didn't happen right in the middle of the keynote, right?
2:37AM - Jeez, half those PCs on the stage are out! Whatever transformer they blew, they blew it pretty damned good. Looks like they're going to have to reset everything!
2:35AM - Peter: "It's the blank screen of death." Zing!
2:35AM - "Please remain in your seats — we're having a small power problem. We thank you for your cooperation." Ohhhhh damn.
2:33AM - The lights just went down, but nothing's on the main display — which usually tends to mean something went wrong. These damned demos seem to crash more and more each year!
2:28AM - They're pumping out some indie rock jams over the PA, we're getting started in just a couple of minutes here!
2:25AM - Alright, Peter and I are in! The wireless traffic here is insanely saturated, so there's a really good chance our coverage might cut out during the event.