We've yet to find out just what tricks Google's got up its sleeve for the the latest flagship Android handset, the
Nexus One
, but we'll be live from Mountain View to find out. Read on for full coverage! Subscribe to future gdgt events here:
iCal
,
feed
7:43PM - That's it! Thanks for checking out our coverage, we'll be back tomorrow night live from CES covering the Ballmer keynote!
7:42PM - I just asked Andy: "You've said in the past — explicitly — that there won't be a Googlephone. Seriously, no Googlephone. What happened?"
Andy: "Well, I'm precise about what I said… Google won't build hardware." Huh, I'm pretty sure that's not what he said, but I guess that's that.
7:39PM - Andy explained that marketing Android on television and the like isn't as good a strategy for connecting to customers as is simply leveraging Google's own brand.
Peter: HTC will be upgrading 2.1 on select existing models (but he didn't say which).
Q: "Will Google do anything to ensure future upgrades of Android on handsets?"
Andy: "Well, my computer from 4 years ago can't really run Vista. Usually hardware and software work in lockstep. … I can speak to intentions, and based on the technology we'll do our best to make sure everyone can have the latest software."
Sanjay: "We'll do our best to ensure that our users can have the best version of Android their hardware can run." Cleverly phrased, Sanjay! "If you want to be completely backwards compatible, you will sacrifice innovation. You don't want to slow down the ecosystem… you have a choice about delivering the best experience."
7:33PM - Sanjay: "Peter and I compete, but we both participate in the ecosystem. I think Android is the new leading ecosystem, and we are two of the top players." (Paraphrasing that one a little!)
7:30PM - Sanjay: "I think the Nexus One is a good phone. We will continue to update with Android… clearly Peter and I compete in the marketplace to deliver the best products. … I don't see [Google selling phones] as a threat, I see this as an expansion of the marketplace."
7:28PM - Update on Android Marketplace: 20k apps, sell through "going well. We continuously innovate on the market itself…" talking about app purchases as phone bill line-items.
7:26PM - Look who just showed up! Sanjay Jha, The Man at Moto. Jason at Giz: "How are you differentiating 'superphones' from smartphones? Will the Verizon phone support CDMA and GSM?"
Andy: "The definition, to us, is the evolution of this platform… The industry needed another term to refer to these innovations. We wanted to refer to it by something, and we think superphone is the right way to refer to it." Oh please. Buzzword. Just say it, Andy, you guys made up a buzzword.
7:24PM - Danny Sullivan is totally sticking it to these guys. "Why aren't you giving away a phone for free with advertising? I want the revolution, where is it?" Andy: "I think the carrier plans aren't boring, I think they're exciting, globally. The first baby step here is get the online store going, let's put the best-in-class products in that store, and enhance it in the future."
7:22PM - Talking about upgrade eligibility — no surprises there.
7:20PM - Mario just implied that you'll be waiting a while for the Nexus Two.
7:18PM - Ross from Engadget: will there be multi-touch on the Nexus One? The panel didn't really answer the question, but "We'll leave the option open — it's a software thing and we'll consider it."
7:17PM - Heh, now these grizzled reporters are getting impatient and just shouting out questions instead of waiting in line. Andy: Google wants to move things forward and raise the bar — expect the Google store only to showcase the best, most interesting Android devices.
7:14PM - Andy: "Plus, now we have this NEW thing now: voice input! There used to be physical keyboards, and then virtual keyboards. Now you can input with your voice." Yeah, that is pretty damned nice. Have I made the obligatory "Eat up Martha" joke yet?
7:13PM - Q: "Is the physical keyboard dead? Will Google retail more products [other than phones] in the future?" Peter: People will choose the best fit for them. This one focuses on the screen and onscreen keyboard — for people who like this, this is the best choice for them. Of course, we also have keyboard designs as well for people who are heavy email users.
7:11PM - If it wasn't already clear, BTW, this is not an AT&T 3G phone. Nexus One does not have AT&T's 3G bands — T-Mobile only.
7:10PM - Device supports WiFi, "tethering is something we're looking at in the future." Andy: not (yet) having tethering is not strategic, Google just hasn't added tethering functionality yet. Sounds like they will soon!
7:09PM - Q: "What are the revenue streams for Google?" Andy: "Our primary business is obviously advertising — this phone from a performance perspective looks a lot like your laptop from a couple years ago. This is just the next front of our core business. There is opportunity to make margin on unit sales, but that's not what we're trying to do here." It's about enabling Google usage and customers. Makes sense.
7:06PM - Man, most of these questions from reporters are pretty insipid. "Is this an iPhone killer?" Groan.
7:04PM - 2.1 should be released "within a couple of days."
7:01PM - Q: "What message is Google sending to iPhone users with this?" Andy Rubin: "We're not trying to send a message to iPhone users, we're trying to communicate to all consumers."
7:00PM - Nexus One ships today!
6:59PM - Andy Rubin just said that in future versions of Android, app storage can be done on external storage (i.e. SD), but not in 2.1.
6:58PM - This wasn't in the presentation, but it looks like the Nexus One is coming to Verizon! From the Google page: "The Nexus One Phone with Verizon Wireless service. Coming soon in the United States." Discuss the Nexus One coming to Verizon here!
6:56PM - So, recap: buy phones with or without service from Google. The Nexus One is the first model (so clearly the Nexus series will be carrying on in the future), and they'll be expanding this to more manufacturers and countries soon.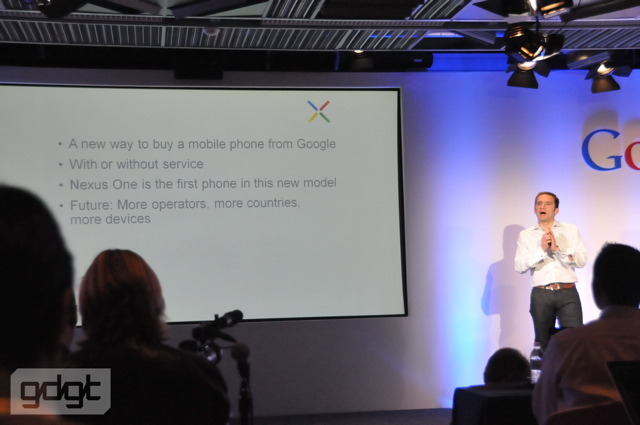 6:53PM - As of today Google is shipping to US, UK, Singapore, and Hong Kong. Looks pretty damned simple for buying an unlocked Nexus One, but Google didn't demo buying a phone with T-Mobile service from their hosted web store.
6:52PM - To purchase you need a Google account (i.e. Gmail), checkout is with Google Checkout. Before you check out, you can do up to 2 lines of engraving.
6:50PM - Verizon Droid phones and Voda devices are coming Spring 2010 — obviously not there yet. Right now it's just T-Mobile and the Nexus One (in the US).
6:49PM - Nexus One unlocked and without service: $529. Buy it with service from T-Mobile for $179.
6:49PM - Google is stoked about Verizon and Vodafone joining up on Google's Android phone store. Aight, got it. There's an interactive demo on the store which allows you to test out Android.
6:47PM - Google will add more operators and more devices (including those from Motorola) to this Android phone store! Very interesting.
6:46PM - Google consumer channel for buying phones. "Simple purchasing, simple plans from operators, and simple and worry free setup of your device." Buy it online, or buy it from a carrier. www.google.com/phone is where you can buy a phone starting today.
6:45PM - "That's just a taste of what's on the Nexus One." Back to Mario. "As I said before, this belongs in a class of devices called the superphone — it's the first devices we'll bring to market from a series."
6:44PM - Panning and 3D perspective in Google Earth on the phone. Voice is enabled in Google Earth, too — saying "mount Fuji" actually takes you over to Japan!
6:42PM - Demo shot below was spoken in — the speech to text is done on the server side, not locally. Ohh, "special surprise" app: Google Earth for Android!
6:40PM - "What if I could enable every single text field in the phone with voice?" Android 2.1 has now voice-enabled every text field in the device. Damn!
6:39PM - Background sync with Picasa web albums. Last bit is around voice. "The evolution we've seen in voice recognition in the past year or two is phenomenal."
6:37PM - New photo visualization system, Google worked with Cooliris on this. The images tip based on accelerometer (a bit more eye candy that doesn't really do anything). Photos cluster based on time, date, location etc.
6:35PM - New 3D framework in the Android platform. "You now have a mini-computer in your pocket — we wanted to push the 3D capabilities of these devices." The app launcher is also now 3D, kind of like a vertical ribbon or scroll wheel.
6:34PM - Showing live wallpaper. Ripples and leaves floating on the home screen. "It's dynamic and moving, and continues to move underneath my personalization." Tap on the water and it ripples. Looks distracting!
6:32PM - More homescreen panels — five total — for shortcuts and widgets. Showing the (new) news and weather widget. "This is not just any normal weather widget — it uses GPS to know where I'm at, and I can get minute-by-minute temperature and humidity readings. It's this great, highly Googly, scientific way to look at weather." Um, sure.
6:30PM - "With this great hardware we think we've got half the story. But it's the marriage of hardware and software that make this amazing." Nexus One runs on Android 2.1.
6:29PM - Please don't ACTUALLY engrave your Nexus One "Happy Birthday Anita!" kthx.
6:28PM - Ah, so those contact points enable inline remotes and mics. Inline noise cancellation: two mics, front and back, which enables nose suppression. Custom engraving on the lower bezel!
6:27PM - 22.5mm thick, weighs 130g, 5 megapixel camera with LED flash. Let's get to the dock connector!
6:26PM - Light and proximity sensors, compass and GPS (as we'd already expected).
6:24PM - Time for a closer look at the Nexus One and its software. Erick Tseng, senior product manager on the Android team. The specs! 3.7-inch OLED display, HVGA (480 x 800) — deep contrast. 1GHz Snapdragon ("It's really fast."). Trackball with multi-color notification LED.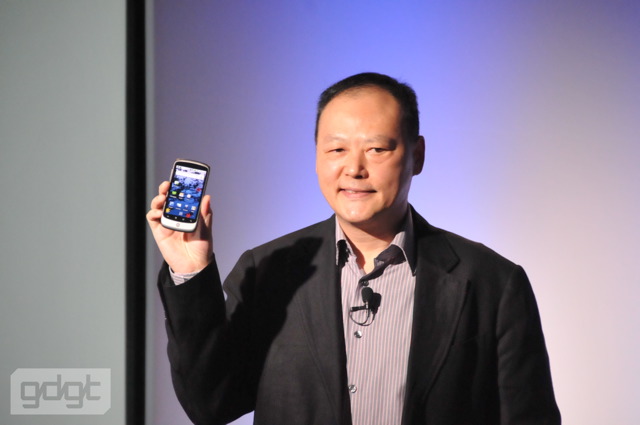 6:21PM - "The combination of the Android experience and HTC hardware and experience make the Nexus One what it is. We are very committed [with Google] to innovation in mobile technology."
6:20PM - "A couple years ago we were unveiling the first Android products. This is one of the best designed HTC phones we've ever had. The form-factor, aesthetic — it has a 3.7-inch AMOLED display and 1GHz Snapdragon."
6:18PM - "The Nexus One was designed in very close partnership with HTC. Today, I'm pleased to welcome on stage Peter Chou, CEO of HTC." Peter!
6:18PM - "The Nexus One is an exemplar of what's possible with Android. It belongs in an emerging category of devices we call 'superphones.'"
6:17PM - "One of the questions we asked ourselves: what if we worked even MORE closely with our partners to bring devices to market that help showcase the great software we're building at Google. So today, we're announcing the Nexus One." Oh god, he's giving the dictionary definition of "nexus" — cliché much?
6:16PM - "To help Android adapt to the needs of consumers, we apply our engineering resources to selected projects with our partners. That's going to continue to be our model — together with those partners, we've increased the volume, variety, and quality of Android phones in the market today. But we want to do more, and that's what today is all about."
6:16PM - "It's been a great year, but there's no time to stop and celebrate. We're only in the early stages of a longer journey. We're really proud of the many devices our partners have brought to market. The Sprint HTC Hero came out not too long ago. The Motorola CLIQ, the Samsung Moment… these are only a few examples of these devices."
6:13PM - Dude is just kind of rattling on right now.

Summarizing the benefits of Android. Yeah, we know it's open source, we know it lowers costs.
6:11PM - 4 major releases in 2009. "In order to prevent fragmentation of the platform, we launched a compatibility test suite." 52 OHA members now. "Android is contributing to more and more users getting to the web through their mobile phones. We all know this is happening, we're doing it ourselves. We see Android users searching the web up to 30x more than they do on a featurephone."
6:09PM - "We thought, let's take some new, powerful hardware, and increase performance. … with this work, the Verizon Motorola DROID landed. For a little history, we had 1 device on 1 carrier in 1 country. Now we have 20 devices on 59 carriers in 48 countries in 19 languages."
6:08PM - "The G1 was really just the beginning. We said that's not enough, let's do more. Let's work on a thinner device, develop a soft keyboard and widgets for the home screen, and stereo Bluetooth. That's when T-Mobile, with HTC, brought out the MyTouch 3G. We said, let's keep doing more, we're not satisfied yet."
6:07PM - 13 new OHA members: including China Telecom and HTC.
6:06PM - Google VP Mario Caros (sp?) is up: "Today we will unveil the next stage in the evolution of Android…" review time! Talking about the starting of OHA way back in those 2007.
6:05PM - Alright, we're about to begin! Apparently we're in for a "series of short presentations" today. Huzzah!
6:04PM - Heh, Andy Rubin just took a photo — with a Nexus One. Turn off the flash!
5:55PM - HTC CEO Peter Chou is here, as is Andy "check it out, I created Android" Rubin, and Google VP of Engineering Vic Gundotra. Kind of sounds like an Android phone might get announced or something. Don't be shocked if Larry or Sergey show up later, too.
5:53PM - Just suffering through a bit of Google's selection in tunage while the room fills up — looks like roughly 100 seats, so as far as these things go, it's a fairly small event.
5:39PM - Alright, we're in and seated! Things should be getting started in about 20 minutes.
4:22PM - Heading down to Mountain View shortly, we'll check in once we hit the Googleplex. Should be an interesting morning!