Ever wonder what a 7-inch iPad would look like? Great, because we're all about to find out. (Well, probably.) Of course, there's also been a slew of rumors related to refreshed Mac minis, iMacs, and even a Retina 13-inch MacBook Pro, so this unusually-timed second fall Apple event is definitely not to be missed.
Check your local time below, and we'll see you back here for our live coverage!
Live coverage begins in your local timezone at:
11:14AM - Thanks again for tuning in, and if you haven't already, use that newsletter signup tool over on the right — we send great stuff, check it out.
11:13AM - And always, we'd like to thank the always-awesome team at Rackspace for powering today's live coverage! It's thanks to these awesome people that I can sleep (relatively) soundly the night before these Apple events.
11:12AM - And we're done!
11:12AM - Tim's thanking all the employees at Apple for dedicating themselves to building such great products. You can honor those folks by adding their products to your gdgt lists!
11:11AM - "Yes, it has been an incredible year with all these new products and all these applications and cloud services." Oh? "It's been a year of truly prolific innovation for Apple."
11:10AM - Tim's reviewing today's gear. Hey, go add the iPad mini to your gdgt list!
11:10AM - "We told you earlier this year that you'd see some incredible innovation across the year." Wait, there's not going to be another Apple event in November?
11:09AM - Tim's back.
11:08AM - TV ad — huge applause and cheers. Cute.
11:08AM - Will Apple sell a lot of iPad minis at $329? Yes. Of course. But would they sell a LOT more at $299, or $279? I'm going to estimate that they would.
11:07AM - Two weeks after WiFi ships, Apple will ship the WiFi + cellular models.
11:07AM - Pre-orders October 26th.
11:07AM - Okay, this $329 bit is a pretty big deal. Because remember, its primary competition is $80 less — that's a big difference when you're talking about a product at this price.
11:06AM - Starts with 16GB: $329. Womp.
11:05AM - Jony: "The result is an extraordinary iPad that will be used in so many different places, and in so many different ways."
11:04AM - New Smart Cover! No hinge this time around.
11:03AM - "We took the time to create a product that was a concentration of, but not a reduction of, the original product."
11:02AM - I love when Jony Ive speaks in these videos. "It's so ____ when you can ____ with such ___ creating a product that's simply ____." Best.
11:01AM - Video time!
11:00AM - 802.11n, and Lightning, as you'd expect. Wow, ten hours battery life. That's not nothing when you're dealing with such a small form factor.
11:00AM - Dual-core A5 chip, FaceTime HD camera, 5 megapixel iSight on the back of the new iPad. LTE? LTE. Interesting, wasn't sure if there was going to be an LTE option on this little guy.
10:59AM - Phil's really digging into the huge difference in screen real estate, and now he's dogging Android about their "scaled up" phone apps on the Nexus 7 / Android tablets vs. native iPad apps on the iPad mini.
10:57AM - I'm assuming Apple felt good about dropping down the bezel size because you can just hold the whole thing in your palm.
10:57AM - I'm still not super sure about this super thin bezel though. I mean, it looks great, no doubt, but one of the most interesting design features of the full-size iPad is its very comfortable bezel size.
10:57AM - Nexus 7 is "thicker and heavier" despite having a smaller display. Interesting. 35% larger display area, too.
10:56AM - Speaking of the Nexus 7, Phil's gonna do a little comparison. Ruh roh.
10:55AM - You know, I walked in here thinking to myself that if Apple announced a smaller iPad, I probably wouldn't want one all that much. But. It's pretty hot. And I do really like my Nexus 7. So now I'm rethinking things…
10:54AM - XGA (1024×768) resolution. No surprise there, but I'm guessing we're not going to be seeing a Retina model.
10:54AM - "One of the biggest question people wonder is, what screen size and why?" Smaller, but not too small, and it shouldn't require developers to rewrite their stuff. Well, it's actually 8-inches!
10:53AM - 7.2mm, or 23% thinner than the full-size iPad. 0.68 pounds. Pretty light — apparently light as a pad of paper.
10:52AM - Hard to tell from here, but it doesn't look like that screen is a Retina display.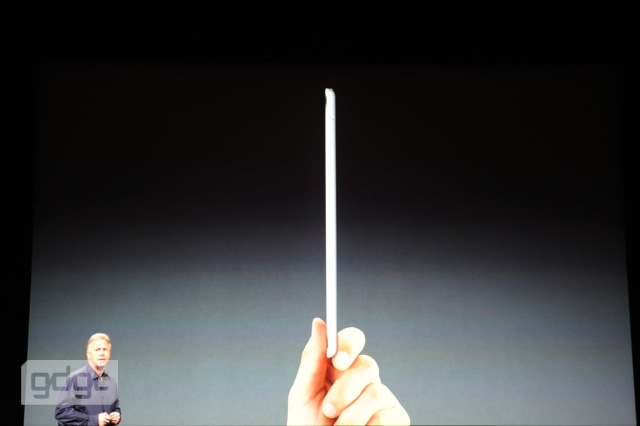 10:51AM - "This isn't just a shrunken down iPad, it's an entirely new design." That seems pretty clear.
10:51AM - iPad mini. That's the name. File it, folks.
10:51AM - And the applause is pretty wild. Settle down, people! Let the man speak.
10:51AM - 7-incher iPad.
10:50AM - Thar she blows.
10:50AM - Same price as before, no surprise there. "The 4th generation extends the lead" of the 3rd-gen. Yep, can't really argue with that.
10:49AM - Lightning to SD, USB, HDMI, and VGA. I'm still feeling a little weird about new iPads just 6 months later, but ok.
10:49AM - New image signal processor, upgraded FaceTime camera, expanded LTE, and 2x faster WiFi with 802.11n 2.4 + 5GHz. And, of course, Lightning.
10:48AM - "It's a powerhouse." A6X. 2x performance over A5X. Did I miss something? What's the X?
10:47AM - What? iPad 4th gen.
10:47AM - He's inviting Phil back to the stage. Hi Phil.
10:46AM - Tim: "But we're just getting started" with the iPad. "We're not taking our foot off the gas."
10:46AM - It's been a long time since I've been in school, but the idea of not having to use out of date books is an obvious and highly appealing idea. Okay, iPad in the enterprise: 94% is testing / deploying iPad.
10:45AM - Publishers can directly insert mathematical expressions, custom embedded fonts, and easily update books over the air. YES.
10:44AM - But first! A new version of iBooks Author.
10:44AM - Tim's talking about the enormous number of rich new iBook textbooks, now in over 2500 US schools. I think we know where he's going with this: a 7-inch iPad will be a huge boon to the education space.
10:42AM - Because we know iPad isn't 91% of the market, but anyone who collects iPad web usage data tends to see similar numbers. Oh, back to the liveblog: Tim's talking about iPad in the education market.
10:41AM - Tim, explaining the disproportionate amount of web traffic on iPad vs. other tablets: there's an easy explanation: "People LOVE their iPads." That might actually be the most cogent explanation I've yet heard explaining the weird disparity between tablet market share and web usage.
10:40AM - More iPads sold in one quarter than any PC maker sold of their entire PC line. Okay, I get that, but it's not really a fair comparison.
10:39AM - Two weeks ago: 100 millionth iPad was sold. Okay. Damn. That is pretty impressive, no two ways about it.
10:39AM - Phil's off the stage, followed by a huge round of applause. And Tim's back. "These products are really cool." Yep. iPad's up next.
10:38AM - By the way, $1300 for the 21.5-inch? Not bad.
10:38AM - And when the spinning disk fails — as they all inevitably do — how does that blow up your stuff, when some bits of data disappear, while others don't? It's smart, but I'm a little uneasy.
10:37AM - So OS X optimizes what you're using between flash and disk, so the OS is on flash, and frequently accessed apps. This is pretty interesting, but how much longer are we really going to be relying on spinning disks?
10:36AM - 128GB of flash and a spinning disk linked together into a single logical volume. Okay, that's smart, but I can imagine some issues here. More in a sec.
10:35AM - There's a spinning hard drive option, but there's a new third option: Fusion Drive.
10:34AM - Each display is individually calibrated on the factory line. The internals are very interesting on this thing.
10:32AM - Pretty sure they just said 27 and 21-inch models — standard resolutions.
10:32AM - The display is laminated to the glass, kind of like what they did in the iPhone. Kind of a big deal, since the display is so huge. But it's not a Retina display (not that I really thought it would be).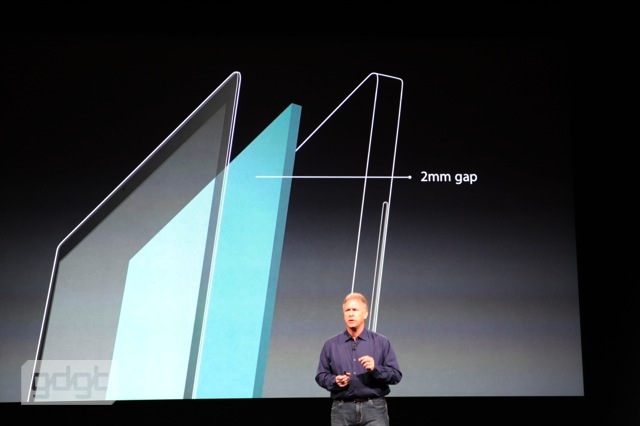 10:31AM - Oh, and the optical drive is done. Duh.
10:31AM - The edge is 5mm, 80% thinner. They moved welding technology from laser welding to "friction stir welding" in order to get it this thin. Okay.
10:30AM - This is pretty stunning, but the thinness of the edge is kind of an optical illusion — it gets much thicker towards the middle.
10:29AM - Hot. Very, very hot.
10:28AM - New iMac time!
10:28AM - "Many think of it as the flagship of the Mac line. … in many ways, this relaunched all of our products." Good point. I was working at a computer store when the original iMac, what a crazy moment that was. People. Buying Macs!
10:27AM - One new Mac to talk about: iMac! The #1 desktop in the US.
10:27AM - Server edition is $999. I'm puzzled why, what with the move to SSD, Apple didn't push harder to reduce the size of this new mini.
10:26AM - Reviewing the new Mac mini: same form factor, but it's got some internal upgrades. SSD! Surprise. $599.
10:25AM - Mac mini! "You knew there'd be something called mini in this presentation." Well played, sir.
10:25AM - Looks like the Air remains untouched, as are the regular MacBook Pros. No surprise there, Apple's not about to phase out their non-Retina products just yet.
10:24AM - Apple's showing the 13-inch RMBP ad. Looks a lot like the one they did for the 15-inch. "For the pro in all of us." Big applause.
10:23AM - And just so we're totally clear, yes, this thing does not have an optical drive.
10:23AM - Base model starts at $1699. That's not too shabby — $500 less than the 15-inch. Ships today.
10:22AM - Phil's reviewing existing Mac features, like iCloud integration, and new PowerNap technology.
10:22AM - Up to 768GB of flash drive space. Love.
10:21AM - The inside of this MacBook Pro looks mad. You'll see in a second when the photo pops up.
10:21AM - So, prices? Battery life? And what happens to the existing 13-inch MacBook Pro? Waiting…
10:19AM - They're going into the "look at how many more pixels this is!" spiel. It's true, but those comparisons aren't really accurate, unless you're one of those rare users who actually uses their 13-inch laptop from across the room. Either way, if you haven't seen one of these things in person, you really ought to.
10:18AM - Retina Display, surprise! 13.3-inch screen, 2560 x 1600 pixels — or 4 megapixels. "The world's (2nd) highest resolution notebook display." Indeed.
10:17AM - This new one is going to be "so much better." 20% thinner, almost a pound lighter. Well, that's pretty impressive.
10:17AM - The new 13-inch MacBook Pro.
10:16AM - Hmm, apparently the 13-inch MacBook Pro is actually Apple's best selling laptop. Who knew?
10:16AM - MacBooks are up first. Phil's talking about how great the new Retina MBP is, specifically the display. I'd agree — and I'm actually using one right now. It's great. Let me tell you.
10:15AM - Phil Schiller's up to talk about new Mac gear. The hooting from the employees is deafening.
10:14AM - Tim's talking about how the Mac is outgrowing the PC market year after year. Mac machines are the #1 desktop and laptops in the US, which prompts quite a bit of applause from the Apple employees in the audience. Meanwhile, the journalists type.
10:13AM - Mac time!
10:13AM - It's out today! But it doesn't seem like that big an upgrade, so, you know, you don't really need to go RUN to grab that or anything.
10:13AM - New iBooks: continuous scrolling reading, iCloud integration to access easily purchased content, tap and share quotes, and now Korean, Chinese, and Japanese.
10:12AM - 1.5 million books in the iBook store, with 400 million book downloads. iBooks features night and… Sepia modes. Sepia? Okay, well, I've been looking for a better way to read all my old timey e-books.
10:11AM - $6.5 billion dollars in developer payouts. Also, I'd like to thank Tim for showing us how to forge a $6.5 billion dollar check from Apple's ledger.
10:10AM - App Store: last month's update, 700,000 apps in the App Store, including 275k iPad apps. But today they've got a new milestone: 35 billion app downloads. Wait, what was it last time we heard an update, 30 billion? That is pretty wild.
10:09AM - Shared Photo Stream: "the best way to share just the photos you want with just the people you want." Yeah, I don't know about that. You ever tried to use Shared Photo Stream? It's… awkward. But apparently 70 million Photo Streams have been shared.
10:08AM - iMessage: 300 billion served. Or 28,000 per second. Um, that's a lot.
10:08AM - 125 million documents are now in iCloud. That sounds like a lot, but what are all those documents? Because I've got a lot of files in iCloud that I didn't create. I'm unsure what that statistic actually means.
10:07AM - Tim's claiming it's the fastest upgrade rate of any software in history "that we're aware of." Interesting.
10:06AM - Tim: in one month, 200 million devices are running on iOS 6. That is pretty impressive. Will he show the chart?
10:05AM - Tim's chatting up the enormous efforts of Apple to ship all these products. iPod touch and the new nano are "off to a fantastic start." Tim quoted the Verge, and Nilay, who's sitting a couple rows in front of me, chuckled loudly.
10:03AM - Tim just jumped right into an Apple store promo video. Are you pumped? Because these consumers in the video sure as hell are.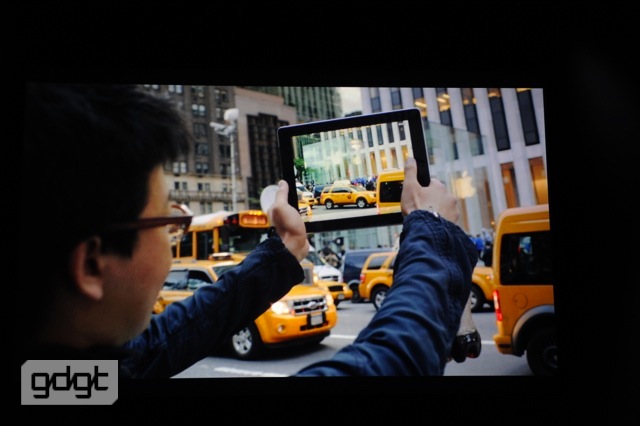 10:02AM - iPhone update is first up: sold out the first weekend, the most phones sold in an opening weekend. Apparently there are a lot of clueless hipsters + parents of Android users in awe of Samsung GS3′s waiting in those lines.
10:01AM - That is a lot of applause! Big cheering for Tim. Love those Apple employees in the audience.
10:00AM - Here we go! Tim's out.
10:00AM - Of course, I'll be shooting photos and telling you everything that's going on in real time — the the key points, the vibe of the room, all the essentials — but I'm gonna focus on doing what I love doing best: putting this stuff in context and giving you the straight dope. So we'll see how it goes! Let us know on Twitter what you think of the commentary-first coverage.
9:57AM - I mean, at least for today's event, you've got the official Apple live video stream. So today I'm going to try something a little different: I'm going to focus more on the commentary, less on the live transcription of dialogue. There are plenty of awesome sites that will do great real-time transcription (see: Engadget, Macrumors), so I'm thinking maybe you're here because you want a little more voice.
9:55AM - So, I've been thinking. Many of you have probably been reading my liveblogs years. (Hi there! You look great today, good to see you again.) Usually I try to do these things with an appropriate mix of transcription of what folks are saying, and, when I've got the time, color commentary. But the transcription stuff isn't really the interesting part, right?
9:52AM - Okay, I'm seated. This is a really beautiful theater, I have to tell you.
9:41AM - Alright, heading in!
9:36AM - Still in the cramped holding pen, catching up with my pals Anand from AnandTech, and MG from (Tech)Crunch(Fund).
9:21AM - Ok! I'm here! It's been a long time since Apple has hosted an event at the California Theater in San Jose, I'm stoked. Unfortunately, it is PACKED.
7:30AM - Good morning everyone! So, I'm about to go get some coffee, and then I'm gonna hit the road to head on over to the event. Being that it's an hour drive (on a good day), I'll be a little while. See you shortly!
10:46PM - Well, it's past ten the night before the big event, so I'm gonna get some sleep. Check back soon for live coverage!