At last, the iPhone 5 launch cometh. So, will it be the taller, thinner, unibody iPhone we've been seeing leaked every way from Sunday for the last few months, or does Apple have something entirely different up its sleeve? We'll find out soon enough.
11:57AM - Hands-on time, see you next time! Thanks for tuning in, folks.
11:50AM - Oh, just in case you missed it before (I know, these updates scroll by fast!), we've got pages up for the new Apple iPhone 5, Apple iPod touch 5th-gen, and Apple iPod nano 7th-gen, hit it! We also have a new tool that lets you see the devices in life size on your screen, it's pretty wild — just click the "view actual size" button!
11:48AM - Dave Grohl, between the singing and chording: "One of the best things about being here is getting to meet all the incredible people — they're shaping our future. Just like getting to meet someone like Little Richard or Tom Petty or Jimmy Page, you realize these are just people who took it upon themselves to do something different and reshape our future. But they're people, flesh and bone, and it's totally inspiring."
11:45AM - One last thing: we're giving away a new iPhone 5. I know, right? If you haven't already, go subscribe to our newsletter (right from this here page, in the right rail, or you can head here). We'll pick the lucky winner next week!
11:44AM - And always, we'd like to thank the always-awesome team at Rackspace for powering today's live coverage! Those guys really went above and beyond to make it happen. 500,000 requests per minute!
11:44AM - Seriously though, I'd really like to shout out the sponsor of today's coverage, Gazelle! Besides being pretty much the best place around to go trade in your devices for cash, they're also extraordinarily nice and attractive people. Go check 'em out!
11:43AM - More singing, backup guitars, a little drumming. Oh yeah, it's on.
11:42AM - So, you guys want me to liveblog the music? It sounds great. Chords. Singing.
11:42AM - Music events come with musicians, and today we've got the Foo Fighters. Hello.
11:41AM - "They are doing the best work of their lives. Work that has real significance because delivering revolutionary products has real significance in peoples' lives."
11:41AM - "When you look at each of these, they're incredibly industry-leading innovations by themselves. But what sets them apart and sets Apple so ahead of the competition is how well they all work together. … Apple has never been stronger. And that's because of the dedication and creativity of our employees throughout the world."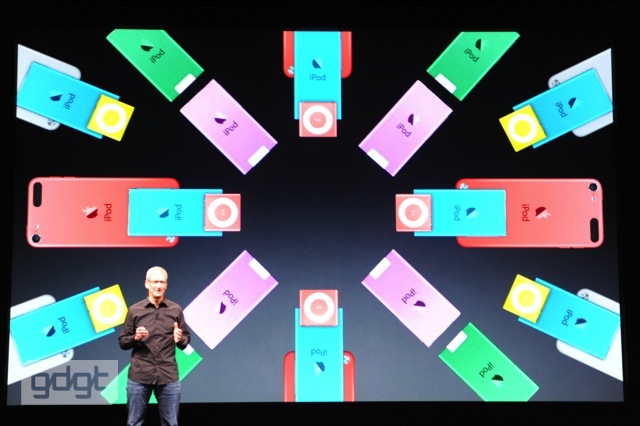 11:40AM - "We are very excited about all the products we've launched today." Tim's doing the keynote in review.
11:39AM - Ad time! That was fast.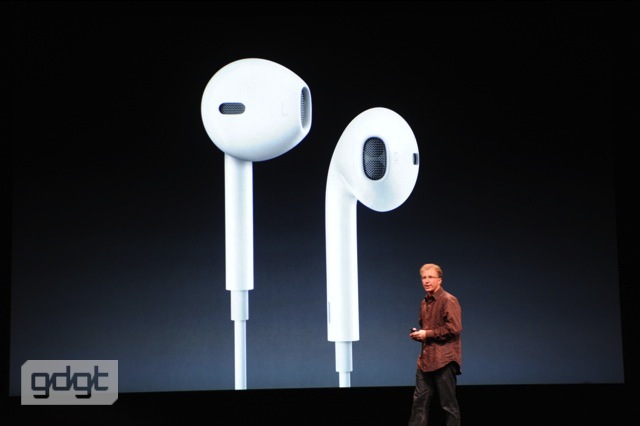 11:38AM - "We do have one more color for each of these as well: Red." To date, Apple has contributed over $50 million to support fighting AIDS in Africa. And now Tim's back.
11:37AM - Review! Shuffle: 2GB, $79+, 7 colors. nano, 16GB starting at $149. Old iPod touch, 16GB starting at $199. New iPod touch at 32GB starting at $299. nano and touch are out in October.
11:36AM - "As you might have guessed, we want to include these with a couple other products." They'll be included with the new touch, nano, and iPhone 5. Hot.
11:36AM - "The new EarPods. We think music lovers are really going to love these. We're going to ship these as a standalone accessory, starting today."
11:34AM - He's calling it a breakthrough in both comfort and audio quality. We'll see about that!
11:33AM - Joz is talking about speakers — headphones, specifically. "We've spent three years designing new headphones, and we call them EarPods."
11:32AM - Did you add all this new gear to your gdgt lists? We've got pages up for the new Apple iPhone 5, Apple iPod touch 5th-gen, and Apple iPod nano 7th-gen, hit it!
11:32AM - iPod touch now also in colors: five of 'em. Nice.
11:31AM - Siri on the touch!
11:30AM - 1080p video on the touch as well. Wireless improved, too — BT 4.0 LE, 802.11a/b/g/n (dual-band), same as the iPhone. AirPlay mirroring! Sweet.
11:29AM - Allows you to pop on a wrist strap (included) just like that. Hey, I love a good hidden button.
11:29AM - Hidden button! iPod touch loop.
11:28AM - It's also getting the new Panorama feature, as you'd expect. iPhoto for iPod touch will be available, too.
11:27AM - iPod touch now gets a really nice 5 megapixel iSight camera.
11:27AM - Demo over, big applause. Joz is back. "So with all this performance, would we sacrifice battery life? Of course, the answer is no." 40 hours music, 8 hours video. Not bad.
11:25AM - My bad, I thought they said iPod touch was A6, sounds like it's actually A5!
11:24AM - Demo time for a game called Clumsy Ninja. Let's do this thing.
11:23AM - A5 processor with up to 7x the performance of previous touches. Makes sense, because the touch has kind of lagged behind the curve a bit.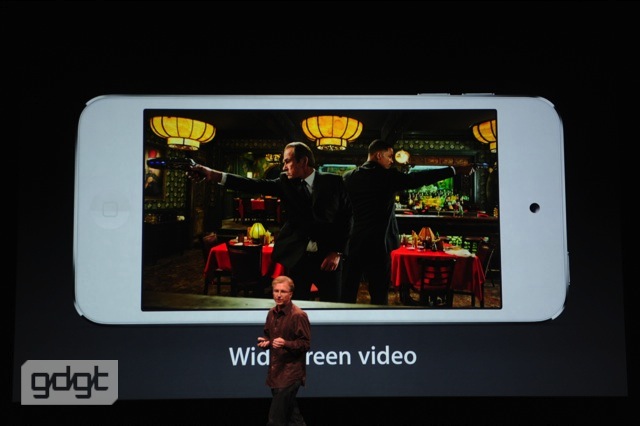 11:22AM - Lightning, speaker, and "exactly the same 4-inch Retina display we have on the iPhone 5." Good, because iPod touch displays have tended to be significantly worse than their iPhone counterparts.
11:21AM - 6.1mm thin, wild. "Almost as thin as the nano!" Weight is 88 grams.
11:21AM - Finally, an update! 5th-generation, "The best iPod touch we've ever made."
11:20AM - New iPod touch time!
11:20AM - "The longest battery life we've ever had in a nano with up to 30 hours of music playback."
11:19AM - Bluetooth support! Stream music to Jambox, wireless headphones, etc. Naturally, it has the new Lightning connector.
11:19AM - Video is back on the iPod nano! Fitness / pedometer built-in, integrated with Nike+ out of the box. Alright!
11:18AM - FM tuner built in with live pause.
11:18AM - 7 colors! Looking good.
11:17AM - "It's the biggest display we've ever put in a nano at 2.5-inches. And it's multi-touch."
11:17AM - Okay, that's pretty hot.
11:17AM - "It's incredibly portable and incredibly light. Almost 50% thinner than the nano it replaces."
11:16AM - "The new 7th-generation iPod nano."
11:16AM - "When we looked to create a new iPod nano, we wanted to reinvent it." Big display!
11:15AM - "We're going to make some exciting changes to the lineup today." iPod nano's first.
11:15AM - "We've sold over 350 million iPods, and we add millions to this every quarter. But we don't do this just for the numbers, this is part of the DNA of Apple, and we love music."
11:14AM - Yep. Greg Joswiak is up to talk iPod.
11:14AM - Available in October! Time for new iPods?
11:13AM - New iTunes store look, not all that different from what we've got today.
11:13AM - Movies interface looks similar to the music with big cover art.
11:11AM - New mini player with search built in. Eh.
11:10AM - Oh, and streaming subscription music would be nice, too. Since I'm just wishin'.
11:10AM - Pretty thoroughly redesigned music experience, I'll grant them. Will let them finish their demo, but we all know what we want from iTunes: for it to not be the one, giant, bloated app that is the sole computer interface for all our Apple devices.
11:08AM - New edge-to-edge design. Looks a little Zune like, actually! Pretty sexy, all the same. Not that I'll be using iTunes for anything other than to sync media to my iPhone and iPad.
11:06AM - Demo time, here we go.
11:06AM - New iTunes with iCloud built right in!
11:06AM - "We now have over 200 million customers using iTunes in the cloud." Really? That doesn't sound right, but wow.
11:06AM - iTunes for Mac and PC time! "It's the world's most popular media player." Go on.
11:05AM - All new store apps launching with iOS 6 on September 19th.
11:05AM - New App Store looks great.
11:04AM - "Over the last couple of years we've noticed an interesting trend…" downloads are largely happening not on the Mac anymore. Surprise! So they've redesigned all their media store apps.
11:03AM - "Today I'm happy to report that the iTunes store is available in 63 countries around the world." Applause. 435 million iTunes accounts with 1-click purchase. Damn.
11:03AM - Eddie Cue's up to talk about iTunes. Applause, cheers, hoots.
11:02AM - "We get really excited that make enjoying music even better, or even simpler. Today we're announcing some exciting changes with both IPod and iTunes."
11:02AM - "Music is in our DNA."
11:02AM - "In addition to announcing the iPhone 5 we have something near and dear to our hears to talk to you about today. It's about music."
11:01AM - "iPhone 5 and iOS 6: the biggest things to happen to the iPhone since the iPhone."
11:01AM - "That is iPhone 5, thank you very much." Tim's back!
11:01AM - Nice, iOS 6 goes back to the 3GS. Still, how slow's it going to run?
11:01AM - 100 countries, 240 carriers by end of the year. "This will be our fastest phone rollout ever."
11:00AM - Pre-order Friday, ships 1 week later. Nice.
11:00AM - "Second question: when can I get my hands on it?"
11:00AM - iPhone 4 is now free, iPhone 4S is $99, and iPhone 5 starting at $199.
10:59AM - Phil's back: "How much do I have to spend?" Same prices!
10:59AM - Showing how they don't just fit a single size glass antenna port on the back. "The variances from product to product is now measured in microns." That is freaking ridiculous. They have hundreds of slightly different sized parts that they fit to each case for the absolute best possible fit. Wild. I doubt that has ever been done, especially not at this scale.
10:57AM - Ive: "What makes iPhone 5 so unique is how it feels in your hand. The materials… the remarkable precision. Never before have we built a product with this extraordinarily level of fit and finish."
10:55AM - Mansfield: "I don't think the level of invention has ever been matched by any other product we've done." Yeah, but you guys always say that.
10:54AM - I love how they're showing the components of the new phone. Hey, guys, no need, we've already seen it.
10:53AM - Jony Ive: "With this unique relationship people have with their iPhone, we take changing it very seriously. We don't want to just make a new phone. We want to make a much better phone."
10:52AM - Phil's doing the wrap-up review on the stuff we've learned. "It's THE best phone we've ever made." Video time.
10:52AM - iPhone 5: black and white with a silver aluminum finish. Pretty hot, but that top strip still looks off to me. The camera isn't quite aligned vertically!
10:51AM - "We've taken FaceTime beyond WiFi, now you can use it wherever you are… These are just 10 of the over 200 new features in iOS 6, and we think you're going to love it." Applause, and Phil's back.
10:50AM - Showing Siri app integration, like Opentable, Facebook, etc. I'll be honest, there's been more than one occasion I've wanted to pop a tweet off while driving. Don't grow up to be like me, kids.
10:48AM - Showing Shared Photo Stream, with photo likes from family and friends. Pretty neat. Uh oh, it's time for a Siri demo. I'm hoping she's a little curt to Scott.
10:46AM - Have you joined the discussion on gdgt yet? If not, head on over and tell us what you think about the new iPhone 5!
10:45AM - Scott's now showing iCloud tabs. Old news if you're Chrome-inclined, though. Still, kinda neat. And now he's on to VIPs in mail. Old news if you're Sparrow-inclined, though.
10:45AM - Scott's now showing iCloud tabs. Old news if you're Chrome-inclined, though. Still, kinda neat. And now he's on to VIPs in mail. Old news if you're Sparrow-inclined, though.
10:44AM - The crazy smart operations folks at Rackspace just informed me that we're now delivering over 500,000 liveblog updates per minute. Helloooooooo.
10:43AM - While we're watching this demo, I wanted to shout out to the sponsor of today's coverage, Gazelle! Much love to those fine folks for their support.
10:41AM - Scott's demoing the new Maps stuff from iOS 6. If you tuned into our WWDC 2012 coverage, you've seen this stuff before. It's impressie.
10:40AM - iOS 6: "We'd like to show you for the first time iOS 6 running on the new iPhone 5." Forstall is up for a demo.
10:39AM - Well, they've got an adapter for that. It's big and ugly, but here we are. This was going to happen sooner or later.
10:38AM - "We're working with accessory makers to have them integrate Lightning into their products this holiday season… but what about all the devices you have now that use the 30 pin connector.?"
10:38AM - It's called Lightning. All-digital, 8 signal design, just as we'd seen leaked.
10:37AM - Connector: "It's served us well for almost a decade. So much has changed. So many things we used to do over the wire we now do wirelessly."
10:37AM - Wideband audio: Apple fills up more frequency spectrum to make call audio sound even better. Requires carrier support though, so they need carrier partners.
10:36AM - Audio system got upgrades, too! Three microphones! Front, back, and bottom. Speakers have five magnet transducers (up from three). Earpiece now includes noise canceling on your own audio out. THAT is awesome.
10:35AM - Better video: better image stabilization, face detection, and now FaceTime over cellular.
10:34AM - "It's even able to determine a non-linear path if you're not able to hold it exactly steady." They do some other stuff to remove objects that are only in the frame temporarily. That is pretty cool, no doubt.
10:33AM - New feature: panorama! Just hit a button, swipe your phone around. Rad.
10:32AM - These photos are pretty incredible, but they didn't show much low-light photography.
10:32AM - "We took some photos. These are… untouched." Harrrr. See what he did there? With Nokia? Yeah.
10:31AM - New image processing chip, too. Spatial noise reduction, smart filter that figures out which areas are best for noise reduction and which should be left alone. Photo capture is now 40% faster. "It all adds up to simply using it and seeing what kind of photos you can take."
10:30AM - And it's better: dynamic low-light mode, up to 2 f-stops greater light performance, five element lens. "The team is now measuring down to the micron level to create better lenses. And for the first time we cap off this camera with sapphire crystal lens cover."
10:30AM - Next: camera. "If you know anything about camera design, you know the greatest challenge is vertical height. We asked our engineering team to create a thinner camera that's better than the iPhone 4S, and they've done that." Damn, that's amazing.
10:29AM - "We've matched or exceeded the battery life of the iPhone 4S." Damn, 8 hours of LTE.
10:28AM - Phil's back!
10:28AM - The guy seated next to me here in the audience is clearly an Apple employee. He claps REALLY loud in the press box, and he's saying "That's awesome." to himself every few seconds.
10:27AM - Time-shifted multiplayer with Game Center, so you can race friends on the same track later. Not bad!
10:25AM - Looks like we're gonna get a Real Racing 3 demo.
10:25AM - Looks like Phil's about to do some demos. EA Studios going to come out and show some games.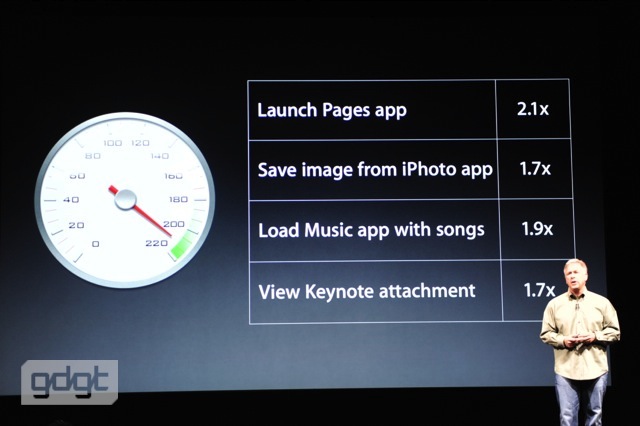 10:24AM - "What's next: the A6." 2x faster CPU, 2x faster graphics, and even smaller. Smaller's great, but what about power?
10:23AM - "We've updated every. aspect. of iPhone 5."
10:23AM - "In Europe there's a lot of adoption of this new dual-carrier HSDPA." iPhone 5 has 802.11n is now dual-channel 5GHz, with max performance up to 150Mbps. Nice.
10:22AM - "You probably know that LTE is the most complicated networking technology brought to this earth…" AT&T, Verizon, Sprint in the US… he's rattling them off a little fast for me to hit right now, but they've got plenty of carriers so far. US, CA, Asia, Aus, Europe…
10:21AM - Yes, you read that right, the iPhone now has LTE. "How'd we do this? It took a lot of incredible engineering."
10:21AM - "Ultrafast wireless technology. You can imagine the challenge our team faced: thinner, smaller… but we've added HSPA+, DC-HSDPA, and yes, LTE."
10:20AM - 44% more color saturation: now fully sRGB, "it's now the most accurate display in the industry." Touch sensor is built into the display now. Damn. "It's truly the world's most advanced display, and we couldn't be prouder of it."
10:19AM - CNN and Opentable: way more room to work with showing headlines, photos, menus, etc.
10:19AM - "All your software works just like before." Glad we won't be having major scaling issues with this thing!
10:18AM - "Much more room to work and play. With 700,000 apps in the App Store, what happens to them?" Apps fit the same in the device, centered. Nice.
10:17AM - Phil's showing demos of new apps optimized for the wider screen. "All of our software is being updated as well to take advantage of these applications."
10:17AM - Sorry, Apple did something weird with the lighting that messed with my photos! I think they're a bit better now.
10:16AM - "It's really easy to make a new product that's bigger. That's not a challenge." Retina display, and it's taller. "The new screen on iPhone 5 is a 4-inch display. 1136×640.
10:15AM - 7.6mm thin, 18% thinner. "It's the world's thinnest smartphone."
10:15AM - It's built to the most exacting standards Apple has ever taken on. Thinnest, lightest phone Apple's ever built.
10:14AM - "It's made entirely of glass and aluminum."
10:14AM - Big applause. It's the leaked phone alright.
10:14AM - "It's a jewel. It's the most beautiful product we've ever made, bar none."
10:13AM - Let's take a look at the new iPhone 5. Dude, put it on screen!
10:13AM - "Today, we introduce iPhone 5."
10:13AM - iPhone only launched in 2007, can you believe that? "Time: the iPhone is the phone that changed phones forever. It went on to become the #1 smartphone in the world. Each year we set a new bar for the gold standard of smartphones."
10:12AM - "Good morning! It's really neat to stand here and see all the Apple logos pointed back at me on stage."
10:12AM - "We have some very exciting news to tell you about the iPhone." Phil's up!
10:12AM - "Today we're taking it to the next level. Making a huge leap."
10:11AM - 90% of all apps are downloaded every month. "The average customer now is using over 100 apps! It's been an absolute revolution. It's phenomenal. Together with the incredible products, these have helped us achieve an incredible milestone." 400 million iOS devices sold.
10:10AM - "Of course, the App Store is the place for all of us. We recently crossed 700,000 apps in the store." 250k are iPad apps. That is an enormous milestone.
10:09AM - "iPads are being used everywhere by everyone… almost all of the Fortune 500 are testing or deploying iPad. They're investing in custom apps — something none of them do on the PC!"
10:09AM - "Our competitors have taken note of this." iPad with 62% market share in 2011, now 68% market share after all their competitors launched their competing tablets. iPad: 91% of web traffic of all tablets. "I don't know what these other tablets are doing!"
10:08AM - "We sold more iPads than any PC manufacturer sold of their entire PC line." What! 84 million total units sold. "This is shocking considering this is a category that didn't even exist a few years ago."
10:07AM - Last quarter: 17 million iPads sold. A record for sales of the iPad. Damn. 17 million is a LOT.
10:06AM - "For the last six years the Mac has significantly outgrown the PC!" Duh. "The iPad is driving the post-PC revolution at a breathtaking pace."
10:06AM - Fastest upgraded OS X to date! And the Retina MBP. "Together with MacBook Air, our notebooks now rank #1 in the US for market share for the last three months." Big applause for that one. Well, well, well.
10:05AM - "Onto the Mac. We've had a very busy summer." Mountain Lion: the first with iCloud built right in. Tim's quoting effusive reviews. 7 million downloads of Mountain Lion.
10:04AM - Big applause. "Apple stores offer the best buying experience and customer service on the planet." 83 million customers in the store every quarter — 1 million per day. That is wild.
10:03AM - That's a lot of happy Spanish customers. Apple has definitely mastered the feel-good corporate promo video.
10:02AM - Video time, Tim's gonna show the "energy and enthusiasm of the store's opening."
10:01AM - Sorry, this was Barcelona!
10:01AM - They spent two years on a new Italian store. Daaamn.
10:00AM - Retail update to start.
10:00AM - "Thank you for coming this morning! We've got some really cool stuff to show you. It's an amazing, extraordinary time at Apple."
10:00AM - Tim is out, applause.
10:00AM - Lights are going down!
9:54AM - Alright, I'm in and seated!
9:47AM - Ok! Broadcast media is being admitted, which means I'll be seated within a few minutes!
9:24AM - Milling-about-mode: engaged! So many tech journalists. Hello to all the awesome folks I can't personally fist-bump from within this here cluster.
9:10AM - By the way, tell your friends about our coverage! We have a standing bet that we can take down Rackspace. Ok, not really, but we do love your support.
9:02AM - Still in line-mode. Waiting to engage milling-about-mode.
8:36AM - Weather conditions: hazy. Media line: long, and growing. Excitement: building.
7:56AM - Well, good morning! And a happy iPhone Day to you. Me, I need coffee. Back in a bit.
11:11AM - It's all going down very, very soon. Check back for live updates!