Apple's been quiet on iPhone stuff for the past few months, but now they're promising a preview of iPhone 3.0 and the next version of the SDK — I'll be reporting live to find out whether the next big release will finally have some of the many features iPhone users have been pining after!
4:49PM - (P.S. -Yes, since you asked, we're absolutely still getting things ready for gdgt's full launch — more on that soon enough!)
4:48PM - Q&A is over, and we're all out. Thanks for stopping by to check out our coverage, will see you next time! Again, photos by JD Lewin, and a big shout-out to our pals at Mosso for hosting our coverage!
4:47PM - Q: App Store applications are still a little mysterious, will you guys be more clear on that?
Phil Schiller proceeds to talk about how much people love the app store… oookay. "There are some things we need to check for technically. That it won't crash, etc., and there are other things we check for, like profanity, pornography, violations of privacy. With over 25k apps and 800m apps, we have a great solution that's working." So really, no answer to being clearer.
4:45PM - Q: Can you view and stream songs between devices P2P?
A: Well, can you use the SDK to P2P across iTunes client libraries? Hmm, we'll have to think about that. (Apple doesn't seem to actually know specifically for that.) Probably not though, I don't think you can access the library, but you can control it. Thanks for playing stump the expert!
4:43PM - Q: Bluetooth on the iPod touch?
A: Bluetooth is a capability we can "unlock" on the latest-gen iPod touch.

Holy crap!
4:42PM - Q: With notifications: uptime promises?
A: No guarantees on it, no. We want it to be as reliable as possible, but even SMS doesn't have 100% uptime.

Q: Josh (Engadget) is asking about performance improvements.
A: We take performance very seriously. These presentation demo units are a little more laggy than standalone units, but we care about performance and are working on it in a number of ways.
4:40PM - Q: New iPhone? Netbooks?
A: Nothing to announce today. Nothing to announce today. (Laughter.)

Q: External keyboards via Bluetooth.
A: Nothing to announce on Bluetooth HID.
4:39PM - Q: Where do you stand on data tethering?
A: There are two pieces needed: client-side, where the client needs that support; and carrier-support. We're supporting tethering in 3.0 — and we're working with carriers around the world. We don't have announcements on the when and where, but we're building it into 3.0.
4:38PM - Talking P2P: it's device to device, "it's about using Bluetooth and Bonjour." Bluetooth can also be used for interfacing apps with Made For iPod compliant Bluetooth accessories.

Q: Can users trade files via P2P?
A: It's possible to stream media across apps… but Jos dodged the question.
4:34PM - Q: Why did it take so long to get copy and paste on the iPhone? It seems so obvious.
A: "There were a LOT of pieces there we cared about, we wanted to spend time on it instead of putting out something that didn't work right."

Q: Video is a black hole: Flash support?
A: No announcements on Flash. If people use HTML5 with video tags, it's supported. Certain encodings are already supported, like h.264. We're adding HTTP streaming for audio and video, codecs and chunking support.
4:33PM - While we're waiting for the Q&A to begin: photos by JD Lewin, and a big shout-out to our pals at Mosso for hosting our coverage!
4:28PM - Actually, no, Q&A in a minute here. Stick around.
4:28PM - "I think you'd agree at $10 it's a great value for that new capability. Over 1k new APIs for devs, 100 new customer features. Developer beta today, shipping for the rest of us this summer. Thanks for showing up and spending your morning with us, we're really looking forward to the amazing things devs are going to do with this. Thank you very much." Big applause, and it looks like we're all done!
4:27PM - "As a bonus, we've enabled it to work on the original iPhone. The hardware's changed though: MMS and A2DP won't be available on the original iPhone." iPod touch users: $10.
4:27PM - App Store will be in 77 countries. 3.0 ships this summer for free.
4:26PM - Time-out for a sec here: seriously, I was actually not expecting this much stuff from 3.0. This is pretty big — they've answered almost everything I've seen commonly asked for in the iPhone, including a lot of things I thought Apple might never do (including A2DP and accessories via dock connector).
4:25PM - "We are REALLY excited about this. I can't wait for you to get your hands on it…" Jos is back: "How are you going to get it? We'll first make it available as a developer beta, available today. It'll be for EVERYONE in our iPhone developer program."
4:24PM - "We are SO excited about this. Incredible features for devs and our customers. Let me re-cap: in-app purchase, peer-to-peer connectivity, accessories, embeddable maps, push notifications, cut/copy/paste/undo, landscape keyboarding, MMS, new app (Voice Memos), CalDAV / ICS subs, stock enhancements, search and Spotlight… just a few of the more than 100 new features and 1k new APIs that make up iPhone 3.0."
4:22PM - A2DP is now officially supported, hot damn. Auto-fill, too. Also WiFi auto-login, YouTube accounts, iTunes account creation, encrypted profiles.
4:21PM - Stereo Bluetooth!
4:21PM - Showing integration from Spotlight — type something in, select it, and you go straight to your app. Shows an icon of what the search result type is: notes, songs, calendars, etc. Big applause. "So, spotlight: a single convenient place to search across your phone. Again, these are only a few of the hundred new features in iPhone 3.0."
4:19PM - Demo time! This is great stuff so far, I think iPhone users should be pretty happy with things about right now. They've really taken steps to address the three biggest, loudest issues: copy/paste, MMS, and dock-connector accessories.
4:18PM - Search in iPod! The hits just keep coming. Search in notes. "We didn't stop there — wouldn't it be nice you can go to a single location to search across all apps? We created a new home screen where you can search across all apps, and we call it Spotlight." Chuckles.
4:18PM - "We added search to our contacts — our customers told us they loved this. We've added search to all our key apps… including mail. To, from, headers, body… if the message isn't on the iPhone, you can continue your search on the server via Exchange." Also adding search in calendar.
4:17PM - Next: search!
4:17PM - Supported by Google, Yahoo, etc. "Also, support for subscriptions (ICS)." So hot. Next: stocks. Adding support for details and news stories/headlines below. Landscape view that shows more details.
4:16PM - Voice memos is now built-in. Next: calendars. Yes! This is an area that definitely needs some improvement. Scott's going over Exchange integration. "This year we're adding support for two calendar types: first, CalDAV." Oh man, thank you!
4:14PM - Brand new app: voice memos! Record voice notes, lectures, interviews, etc. Works with internal or external mic — editable and sharable.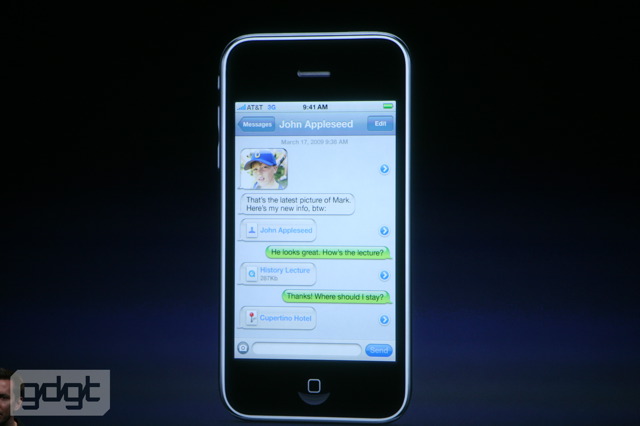 4:14PM - "You can now send an receive photos right over the cell network. When you receive a vCard, it can automatically add it to your contacts. Audio files, play them back. You can even send and receive locations over MMS right from maps. It's all added directly to the existing app."
4:13PM - "But the big news is we're adding MMS!" Applause.
4:13PM - "We're adding support for creating new mail messages in landscape." Same in notes, same in SMS. Next: messages. "We have a fantastic SMS app in the iPhone. Enhancements: forward and delete individual or multiple messages."
4:12PM - "In iPhone 3.0 we're taking landscape and the landscape keyboard to all our key applications, including mail." Yes. Yes, thank you.
4:11PM - Reviewing: cut, copy, paste; works across all apps, undo support, supported dev APIs, and Cocoa Touch controls have support built-in ("Either no work at all, or minimal work.") Next: landscape! Oh yes, Scott, hit us with it.
4:10PM - Showing pasting from SMS back into mail. Works for third party apps as well. This is definitely the kind of thing I was hoping for — they haven't just added the feature, it looks like they've done it in a way that works really well, given the interface constraints. Oh, iPhone 3.0 also supports sending more than one photo at a time, too.
4:07PM - Shake to undo! Shake the phone and it brings up an undo/redo popover. So awesome.
4:07PM - So far this is looking like a really great implementation. "Copy/paste works across all apps." Select or select all options. Showed copying from notes into mail. Now demoing copying web content. Holding your finger on text grabs a block of text and gives you a copy prompt (it's smart enough no to ask you to paste since it knows you're on a static web page).
4:06PM - Double-tap and it selects the text. "I'd like to fly Oceanic 815…" laughter. There's a cut/copy/paste bubble. "That's it!" Showing selecting the block: taking the grab point, drag it down and select the block of text.
4:04PM - "We've been working really hard to design an easy to use cut, copy, and paste interface." Demo time!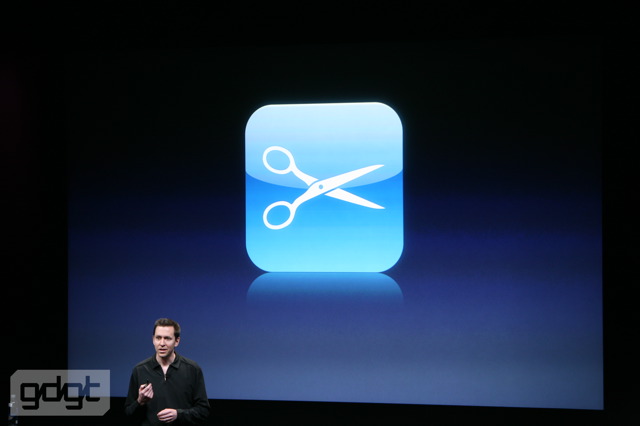 4:04PM - New features: Cut, copy, and paste! Um… !!!
4:03PM - Typing about this just doesn't do it justice. Easily one of the most amazing bits of geek I've ever seen — HUGE applause. Almost expected a standing ovation, not even Steve gets that kind of reaction in Apple Town Hall. Forstall: "How can I go on after that?" Laughter.
4:02PM - Leaf Trombone: World Stage: "perhaps the world's first massively-online music performance experience." Smule added an "exciting new duet play mode" via Bluetooth. Ha, they're about to do Phantom of the Opera on Leaf Trombone. This is going to be amazing.
3:59PM - Big applause. That game looked freaking amazing, not sure I've ever seen a mobile first-person shooter that looked that great. Next: Smule, creators of the Ocarina app. Dr. Ge Wang up from Stanford — he directed the Stanford laptop orchestra, eh? That's some pretty damned geeky stuff right there. "Without the iPhone and the SDK, there would be no Smule today."
3:57PM - Showing LiveFire — looks a lot like Quake 2, really impressive graphics. (BTW, been hearing a few people are seeing some cache errors on our side. So far our servers at Mosso are in great shape and we've got plenty of capacity, it seems to be some weird bug. Just refresh the page, you should be fine!)
3:55PM - ngmoco ceo Neil Young is up showing "Touch Pets," really does look like Nintendogs. Showing a networked play-date with another dog. Item packs — ahh, more in-game commerce. Yes, because buying your real dog tiny people clothes wasn't bad enough, now you can do it for your virtual dog, too.
3:52PM - Forstall introducing ngmoco, who is up next — you may remember these guys for their amazing well-built kinda-knockoffs of LocoRoco, Trauma Center, Nintendogs, etc.
3:51PM - The app can send messages with glucose numbers to, say, parents. History view, shows details on readings and events as they pertain to insulin dosages. Demo's over, applause.
3:47PM - Demoing a glucose meter communicating to her iPhone app, shows the glucose reading and that integrates with a meal builder and insulin schedule. That's pretty freaking hot.
3:45PM - Forstall: "ESPN delivers over 50m alerts a month — it's because of volumes like those that we had to spend the last 6 months re-architecting our notification service!" Laughter. LifeScan is up to show their medical app.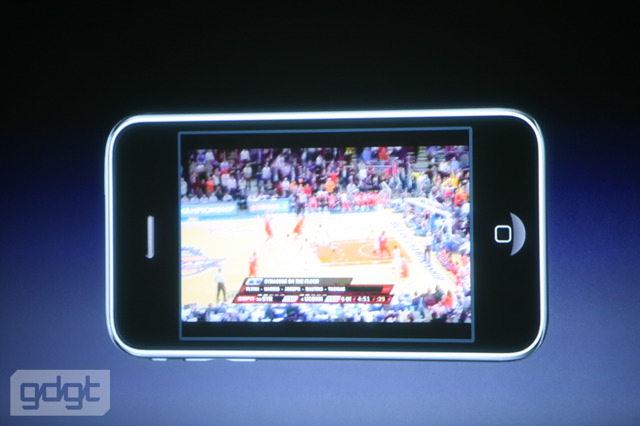 3:42PM - Shows sports score notification (with a little ESPN chime): "Syracuse beats UConn in 60T epic 127 - 117″ popover, if my eyes read that right. Sorry if I just spoiled that for anybody.
3:40PM - Demo's over, Forstall's back: "JD Power and associates recently ran a survey on business smartphone users: iPhone ranked number one in customer satisfaction. They'll love it even more thanks to apps like this. Next: ESPN." Oke Okaro from ESPN is up to show their new native app.
3:38PM - Forstall: "Next up: Oracle, the largest biz software company in the world." Hody Crouch is up to demo. They've brought out five apps so far on the App Store. Now showing a notification which launches "Oracle business indicators" or something like that. Teddy bear eye shortage crisis, etc. All truly hilarious stuff.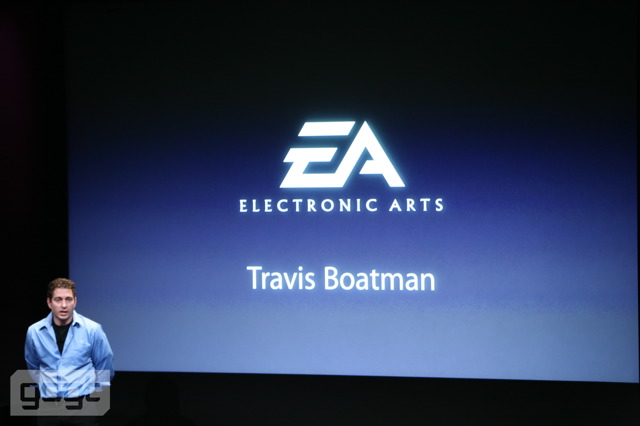 3:35PM - Showing in-app commerce: buying a virtual stereo (for $0.99) with in-game functionality that plays music from the iPhone/iPod touch media library.
3:34PM - Forstall back: "As you can see, Meebo's a perfect candidate for push notifications. Next: EA, one of the largest game devs in the world." Travis Boatman from EA is up to demo — last time they demoed mobile Spore game. Sims3 this time.
3:32PM - "You may be wondering: why did we wait until now to do an iPhone app? As you can see — I just got a push notification. This was the last bit of technology we needed to build a fantastic experience natively." Yeah, no kidding.
3:30PM - "We asked a few developers to come by to see what they could do in two weeks." Demo time! Meebo's up first. Over 45m sending over 5b messages monthly, "and now they're moving it native to the iPhone." Set from Meebo is up.
3:28PM - "It preserves your battery life, maintains performance, and it's optimized for mobile networks. We're in 80 countries around the world, and each carrier has slightly different network configs — we're doing all the hard work for you. This is just a few of the more than thousand APIs…" in-app email, iPod lib access, shake API, UI table view, cell styles, highlighted images, core data, nav bars, battery API, audio recorder, locatized collation, proximity sensor, and… "text selection"!
3:27PM - Let's say you have an IM app: while it's running, it's connected to your server. Quit the app and the connection closes — but the phone keeps a persistent connection to the Apple push service. Three types of notifications: badges (visual), audio alerts (customizable per app), and text alerts (which has a button to re-launch the app). "The reason we're doing this? It scales."
3:25PM - We were asked: why not just do background processing? "It's not good for the customer. It drains your battery, won't let your phone go to sleep when it needs to, won't let it reach the lowest power-state. We took a popular IM client…" ran it on Windows Mobile and other platforms, and "it dropped standby time 80% or more."
3:24PM - Next: push notifications. "You know, we're late on this one. We announced this last year, and we expected to have this in production, but we didn't. There are a few reasons for this: within 2 months we had over 1k apps in the store and 100m apps downloaded. We had a huge number of devs asking for this in volumes we hadn't considered, so we had to completely re-architect the architecture for this. Now we're good to go."
3:22PM - Bring your own maps on this though — Apple can't license Google's Maps for turn-by-turn directions.
3:22PM - "There is one other thing we're doing with apps: enabling developers to use Core Location as the basis for turn-by-turn directions." Oh snap. Uses GPS and cell-tower triangulation.
3:21PM - "We've worked with Google to build an incredible maps app into the iPhone. We've had devs come and say they want to embed maps into our app — something natural, a Cocoa Touch control that can wrap apps into their app. That's what we're doing in 3.0 — we're taking the heart of the maps app and making that a public API." I can see a lot of developers using this, not having integrated maps has definitely been a problem for a lot of localized apps.
3:20PM - Apps talk to accessories via the dock connector and via Bluetooth. Supports standard protocols (playing music, album artwork, etc.) and you can build custom protocols. Trust me — this is HUGE news right here. Next: maps.
3:18PM - "With iPhone 3.0 we're going to take this to the next level: we're going to enable devs to build custom accessories that talk right to the iPhone." This is exactly what people have been wanting. "You can give the iPhone an equalizer to a speaker system. Here's another example: FM transmitter, which would find the optimal broadcast channel and play your music. Here's another class we think will be interesting: medical devices."
3:17PM - "Let's say you're a sales person and you want to send someone a contact: your company can build an app to share that contact instantly, and you walk away." Next: accessories!
3:16PM - "This is especially great for games!" Showing a game of backgammon — shows popover panel detecting all other iPhones and iPods touch in the area. What it provides: automatic discovery (devices and apps), wirelessly over Bluetooth (no WiFi support), no pairing necessary, Bonjour is the backend connectivity, and it's not just for games.
3:15PM - The model is the same: dev sets the price, 70% of revenue goes straight to the dev (no credit card fees, hosting fees, etc.), and devs are paid monthly. Paid apps only though — "free apps remain free… you won't ever be asked to buy something in a free app." Next: support for peer-to-peer connectivity!
3:14PM - Showing screenshot: popover panel asks if you'd like to continue purchasing new updates (in this case, a mag), more levels, etc. If you say you want to buy it, the game will automatically download that content onto the app and into the phone. It's all tied to the iTunes store and credentials.
3:12PM - "Magazines, for example, would love to sell subscriptions. Game developers who would love to sell new levels. And there's new content devs… like ebook readers. I'm happy to say we're supporting these three new models in 3.0. We're calling it in-app purchase."
3:11PM - App Store enhancements first: "It's a great way to get apps in front of millions of users, and it's also a great business deal. The developer picks the price, and 70% of that price goes directly to the developer. We've been listening: some devs want to support other business models. For instance, subscriptions."
3:10PM - "A year ago we announced the native iPhone SDK — we enabled devs to use the same APIs and tools that we use. We gave them the best tools, APIs, and frameworks EVER for building apps. What they did with this blew. Us. Away. So we've been working hard to make this even better. And with 3.0 comes the next generation of apps — and with that over 1,000 new APIs." Wow, 1k new APIs!
3:09PM - Scott's up: "I'm here to tell you about iPhone 3.0. It's a major update to the iPhone operating system. It comes with incredible features for devs and our customers. Let me start with developers."
3:08PM - "I have to thank you, the developers, for developing these great apps. Thank you very much." Devs in the audience are applauding. "Clearly we've created something profound, amazing — something we haven't seen the likes of before. We're just scratching the surface. We're just 8 months in — imagine where it'll be in the coming months, or a year from now. To give us a glimpse of that, I'd like to invite Scott Forstall up to give us a preview of iPhone 3.0."
3:07PM - 800m app downloads. Big applause. Daaaamn.
3:07PM - Video about the dev of Trism: "The App Store is a meritocracy." Sure, but what about the downward pressure on 99c apps? Jos is back: "We've had over 25k apps… there's been a lot of curiosity of our App Store submission process, but I'm happy to report that 96% of apps are approved, and 98% of those apps are approved in 7 days or less."
3:05PM - Over 60% hadn't developed for any Apple platform prior to the iPhone. Reading some oh-so-kindly quotes about the App Store and platform from Gameloft. "The iPhone levels the playing field" referring to getting any app in front of every iPhone user.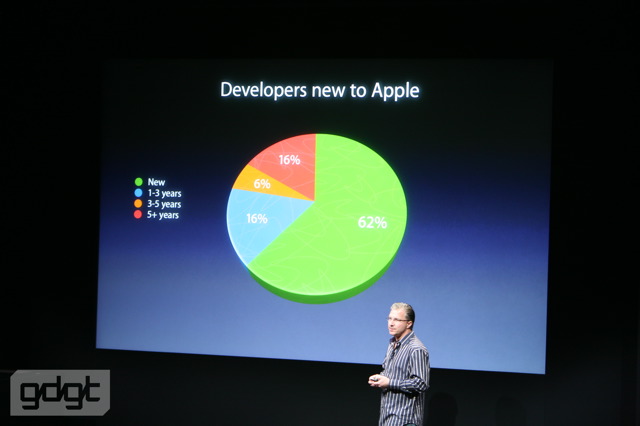 3:03PM - iPhone isn't the only device running that platform though: 30M total iPhones and iPods touch (or is that iPod touches?). "We introduced a beta of the SDK on this very stage just one year ago." 800k SDK downloads. "Absolutely amazing." 50k companies in the developer program.
3:02PM - "Before we ever shipped our first iPhone we set an aggressive and public goal: 10m iPhones. We blew that number away. 13.7 iPhones last year." Sales looks like a hockey stick. "There's a clear inflection point from when we introduced the iPhone 3G."
3:01PM - Lights are going down! Jos is out: "Good morning everyone!" Applause. "Welcome, we've got a lot of app devs in the audience. … we'll be giving a preview of what we're calling iPhone 3.0." Review time: iPhone is in 80 countries as of this week.
2:55PM - That's Tim Cook (COO), Katie Cotton (head of PR), and Greg Joswiak (VP of hardware marketing). Not that I'm surprised that Apple's top brass is here or anything.
2:52PM - No sign of Jobs so far! Schiller is here (natch), but I'm not expecting to see him. I am, however, expecting to see a lot of app demos since the new SDK for 3.0 is supposed to be a big part of today's announcement.
2:44PM - Alright, we're inside! Coldplay on the PA, sitting next to my boy Josh Topolsky, and Lance Ulanoff.
2:28PM - We're inside and waiting in line! There's always a media corral right outside the event before they admit for the briefing.
2:13PM - We're here! Got our badge and waiting to be admitted, the usual gaggle of media is present for this morning's proceedings.