Yep, we'll be live from this year's WWDC keynote to find out just what Apple has in store for its developer community — and, you know, everybody else curious to see whether Cupertino's been cooking up any new gear for this summer.
5:05PM - We're done! Thanks for stopping by — big thanks to Research in Motion for sponsoring today's coverage, and to Mosso for hosting!

And stay tuned, we have a little announcement of our own: yes, we're launching gdgt in the next few weeks.
5:05PM - "Thank you — and keep making great applications!" Phil's out.
5:05PM - "They've all worked so hard on these amazing products. Please help me give them a round of applause." Lights are up, big applause. Yeah, this is a big day. $99 iPhone is huge.
5:04PM - "That's just the start of our show here at WWDC! We've worked really hard and planned to make this great for you developers… all to help you build the world's best apps. Before we go, I'd like to thank all the amazing people at Apple."
5:03PM - Clever. The iPhone thieves can't steal a phone that records video of the vault! "Today we've shown you a whole new line of MacBook Pros. We've shown you OS X Snow Leopard — really, the first time we've done a public demo of it. Scott showed you iPhone OS 3.0, an amazing leap forward. I've shown you the iPhone 3G S — the fastest, most powerful iPhone yet."
5:02PM - 80 countries by August. "Yeah, cheer for your favorite country! We're so excited, we created a new ad…" yep, commercial time.
5:01PM - "The phone that changed everything — and now you can get into it at a price that no good smartphone has ever been at. That starts today. So when does the 3G S become available? Very soon: June 19." Huge applause and cheering.
5:00PM - "In addition to that, we're keeping the iPhone 3G on the market and pricing it at a breakthrough price: $99." Huge applause.
5:00PM - The 16 and 32 both come in black and white — looks glossy, not matte. Pricing varies by region, of course. "But we want to reach even more customers and make our phones even more affordable."
4:59PM - The iPhone 3G S — so what are we going to price it at? Just $199. Woos and applause. 16GB version. $299 for a 32GB device.
4:59PM - Environmentally friendly: arsenic, BFR, mercury, and PVC-free. "It is the fastest, most powerful iPhone yet. Amazing speed in all the things you do. Incredible 3 megapixel autofocus camera. Video capture / sharing. Voice control. Digital compass. All that and I haven't even mentioned all the amazing stuff YOU do."
4:58PM - Up to 9 hours WiFi, 10 hours video, 30 hours audio, 12 hours 2G talk, 5 hours 3G talk time.
4:57PM - Hardware encryption! Remote wipe / encrypted iTunes backups. "All this, and we improved battery life as well."
4:56PM - Accessibility: text-to-speech reads system and text to users. Built-in Nike+ support (like the 2nd gen iPod touch).
4:55PM - Also: built-in digital compass. Some dude screams WHEAOW! "Yeah, there's a compass man." Integrated into maps — shows compass to use orientation on maps.
4:55PM - All kinds of commands work: call a user, control playback ("play songs by The Killers"), ask iPhone "what's playing now?" You can also say "play more songs like this" and Genius will play more songs like this.
4:53PM - Another feature: voice control. "Wouldn't it be great to dial with your voice? It's the simplest thing. In any app — hold down home, the voice control interface comes up."
4:52PM - Scrub and edit the video "just with the tap of your finger." Applause. "Share it right here from your iPhone. If your carrier supports it, send an MMS." Ha, ouch. AT&T, c'mon. YouTube support as well.
4:51PM - "How does that look? Easy as can be." Yeah, it's the UI from the leaks. Still/movie mode, 30fps VGA, auto-focus / white-balance / exposure. "Whenever you have your iPhone with you, you have a video camera."
4:51PM - Better light sensitivity. Auto-macro — close as 10cm away. There's an API. "But the best thing about this camera: it captures video." Cheering.
4:50PM - Auto-focus, auto-white balance, auto-exposure. "We've got a great feature called tap-to-focus." Tap the object you want to focus on. Big applause — and for good reason, that's pretty sweet.
4:49PM - "There's a brand new built-in camera. It's really changed how users use their phone." 3 megapixel autofocus!
4:48PM - Averages 2x speed increase — some things are even faster. OpenGL ES 2.0 support. 7.2Mbps HSDPA. Big applause. "The new iPhone 3G S is a REALLY fast phone."
4:47PM - "The S stands for speed. It's the fastest, most powerful iPhone yet. What's inside is entirely new. It's a REALLY fast iPhone. Everything you do will have incredible speedups. Launching a messaging app: 2.1x faster. Viewing an attachment: 3.6x faster… graphically intense site like NYT, 2.9x faster."
4:46PM - "That's why I'm excited to tell you about a new version: the iPhone 3G S." Finally!
4:46PM - App graph: umm, that's a lot of apps. Plenty of snarky comments.
4:45PM - "To call the iPhone 3G a hit would be the understatement of the year. Some called it the phone that changed phones forever. … it wasn't long ago we were using crappy devices." Ha. "The data's in, it's incredible: 2/3rds of all mobile browsing is done in an iPhone or iPod touch."
4:44PM - Paid devs are getting the GM Seed today. "We are SO excited about it. It's a fantastic release for consumers and developers." Forstall's tripping over his words a bit — I think all the demo botches shook some confidence. Phil's back.
4:42PM - "It'll be free for all iPhone customers. It'll cost $9.95 for iPod touch customers. It'll be available worldwide June 17th." Applause. Finally, a date!
4:42PM - Forstall: "The chance of something going wrong is directly related to the amount of people watching… and the interest here is huge." Laughter. He's trying to explain what we didn't see there. "That's all part of iPhone OS 3.0. Our job is to make developers successful."
4:41PM - Uh oh, their demo's failing out a little. "Uh, you'll all have to go to Line6.com to actually HEAR what it sounds like." Chuckles. I think this one takes the cake for most botched demos at an Apple keynote.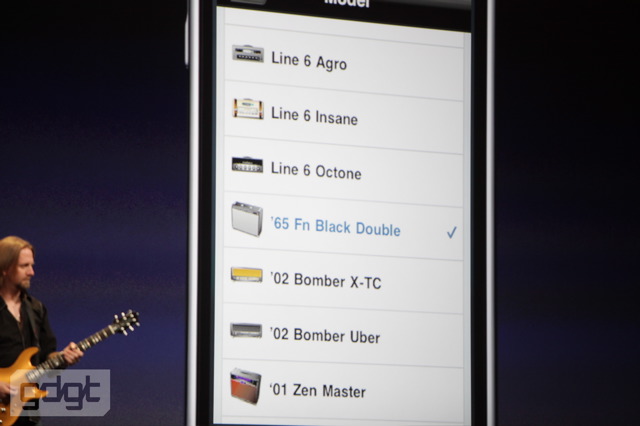 4:39PM - Another demo (huzzah): Line6 and Planet Waves. They're doing effects between from a (digital) guitar to amp THROUGH the iPhone — with an accessory, of course. This is actually pretty crazy, I have to tell you.
4:36PM - Instant car location and reservation via GPS and the new embedded Google Maps integration. (I'm a ZipCar customer, so this is pretty neat.) You can even activate the car horn remotely (to find the car) through the app!
4:33PM - "What's really exciting is that when you connect sensors to an iPhone, you turn the whole world into a laboratory. We think this is a great time to get kids interested in science…" big applause, even though the demo botched. Scott: "Last time I'm dressing up for an experiment." Next up: ZipCar.
4:32PM - Pasco is up, showing a K-12 science app. Heh, their balloon inflation demo failed. "The rapid increase in pressure is right here." (Dude points to himself.) Big laughter.
4:28PM - Next up ngmoco, showing StarDefense. I know this is a developer presentation and all, but I'm hoping they'll wrap up these demos soon.
4:26PM - TomTom car-kit accessory: windshield mount (in portrait or laptop), dock + power, louspeaker, GPS enhancer, handsfree calling, and audio output. Looks nice!
4:23PM - Next up: TomTom. Lots of oohs and ahhs. Don't act so surprised! They're doing both turn-by-turn and have an accessory, let's see what they've got! "We've succeeded real TomTom nav as a true iPhone experience."
4:22PM - Big applause. Next up: ScrollMotion. "This is our new in-app book store. Let's go shopping." Over 500 best-sellers, bringing 50 major mags / 170 daily papers, and 1m books to ScrollMotion's iPhone book store. (Nice, but these guys are going up against Amazon.)
4:19PM - Airstrip Critical Care supports virtual vitals and patient monitoring. Insane! "I can look at this real-time waveform data even if I'm not at the bedside." Showing zooming, scrubbing to look for abnormalities. I really want my doctor to have this.
4:17PM - Okay, I'll admit — that framerate looks pretty good. They're doing Bluetooth P2P multiplayer, which is nice. Next up: Airstrip Technologies. Another medical demo. We saw a TON of these at the iPhone 3.0 event, but the dock-connector accessory possibilities are pretty amazing. "The medical community is flocking to the iPhone."
4:14PM - Demo time with Gameloft. Announcing Asphalt 5, "We think it's the best 3D racing experience you've ever seen on a mobile device." Yeah, I'm looking at it right now, and it's nice — but not that nice.
4:12PM - Accessories: build custom protocols for your devices. Yep, we know — but we know it's also crazy exciting. CoreLocation stuff: turn-by-turn and app-embeddable Google Maps. Push notifications (which, of course, we've all been waiting for).
4:09PM - The SDK has 1k new APIs; Scott's going to go over a few, such as in-app purchase. "Free apps remain free — this is for paid apps only."
4:07PM - Log into MobileMe — it will show you on a map where your phone is. HUGE applause. "Send it a message, have it play a sound — whether or not you left it in silent mode. The waiter can find it and call you." Remote wipe: lots of wows. But again, already announced.
4:05PM - Languages: supporting right to left (Hebrew, Arabic, and others), as well as Thai… over 30 languages (including portrait / landscape keyboards). "This next feature is a great one: find my phone." Showing that clip from 30 Rock.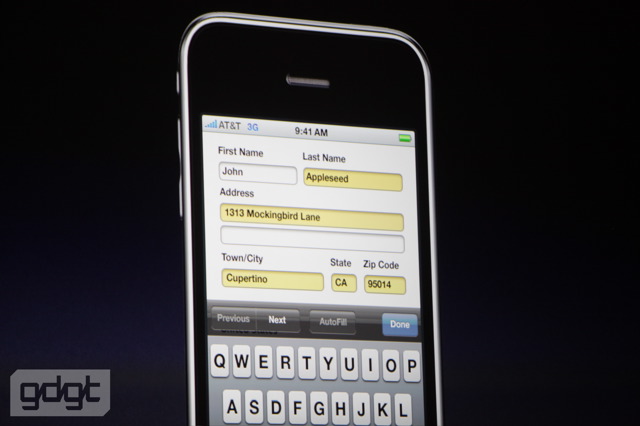 4:04PM - In iPhone 3.0, js runs 3x faster. Auto-fill. HTM5 support (with offline db support) and audio/video tags.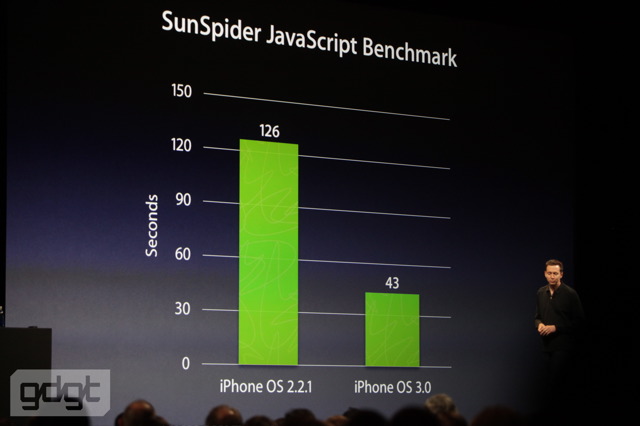 4:02PM - Going over controls. Tethering got some applause. 42 partners supporting this at launch, more rolling out later. AT&T was a no show: "Next: Safari." More guffaws. Thanks AT&T.
3:59PM - iTunes: rent or purchase from the phone!
3:58PM - Scott: dozens of carriers will support this at launch. But AT&T, not until later this summer. Guffawing and a couple of boos. Heh.
3:57PM - Applause. Scott: "Let's talk about what's next: 3.0. This is a major new upgrade to iPhone. Let me go over just a few, like cut/copy/paste." Applause. Yeah, we were there a few months ago when they introduced it — hopefully they'll launch the update today. Talking about the stuff we've already seen: landscape mode, MMS…
3:54PM - Video still going, lots of tub-thumping. Sorry about that hiccup a few minutes ago! We're definitely not done yet. (That's just the default message that occurs if something goes offline for a sec — if you see it again, just try refreshing the page a couple times, we'll be back online.)
3:51PM - Video time, showing off some developer stories.
3:49PM - "The response has been staggering. Developers have downloaded the SDK over a million times. There are now more than 50k apps on the App Store." Cheers. "We've sold more than 40m iPhones and iPod touches. These customers downloading and running apps. In fact, on April 21 we crossed over a billion apps… and I'd like to say thank you. Thank you to our customers, and especially thank you to the developers who've been working so hard to build these great apps."
3:48PM - "If you have several machines, you can use a family pack for $49." Available September, "near-final" dev preview today for WWDC people. Bertrand turning it over to Scott Forstall for iPhone. Applause. "Alright, let's talk about the iPhone: it's been an incredible year for the iPhone. It was less than a year ago that we released iPhone 2.0…"
3:46PM - How should we price SL? We priced Leopard at $129. "We're pricing it at the incredible price of $29." Uproarious applause. Whoa!
3:45PM - Bertrand: "It's so ironic that we have Exchange support for no extra charge, while Windows PCs have it as an extra product." Ha.
3:45PM - Sorry about the weirdness there! For some reason our system stopped updating for a moment, we're back.
3:44PM - Still demoing the Exchange stuff.
3:42PM - Exchange: "We've decided build Exchange into the main three communication apps: Mail, iCal, and Address Book." Demo time again! Mail now auto-discovers corp mail servers.
3:40PM - "We want to use this power for all kinds of things. So we developed OpenCL — the C stands for computing." Hardware abstraction, auto optimization, numerical accuracy. "We've made it an open standard, many companies are participating…" big applause.
3:39PM - Talking GCD for multi-core and threaded apps. Graphics: "The amount of power you have in modern cards is incredible, over one teraflop. A trillion ops per second."
3:36PM - "First: 64-bit. If your app runs in 32-bit mode, it has a 4GB memory limit. In 64-bit you have 16 billion gigabytes. Unlimited. Things run up to 2x faster: for those reasons, we've been on a trajectory for 64-bit. SL is the final stage, all major system apps run in 64-bit mode."
3:35PM - Bertrand back: "Lots of enhancements, but there's also powerful new technologies." Talking about the modern Mac: "You have gigabytes of RAM, a few years ago it was expressed in megabytes! It's GHz — used to be expressed in MHz. And a GPU with enormous raw processing power. But to take advantage of all this, you need to write software. We have a number of technologies, but I want to mention three."
3:34PM - Quicktime X: window title bar fades when mouse goes away, just a borderless box of video. So hot. Showing trimming right from inside QT and scrubbing through clips. One-click clip trimming, one-click uploading to YouTube and MobileMe. "Those are just a few of the many touches to SL, I'll be back shortly." Applause.
3:32PM - Full history search in Safari; Cover Flow view of the browsing history. Applause.
3:31PM - Showing more Dock Expose stuff. Looks really nice. Showing some other sites — I heard a Boom! "Stunning speed with that Nitro js engine."
3:29PM - Thumbnail magnification, live preview via the icon (nice!). "My favorite new feature: Dock Expose." Ha, he's on the NY Times page and there are a ton of Bing ads. Surprised he didn't make a comment.
3:28PM - "Since we had such a change on the backend of QT, we changed the UI of the player: as you can see, the content is center stage." Demo time! Federighi, VP OS Engineering. Drilling into folders via Stacks.
3:26PM - The number 1 cause of crashes in OS X? Browser plugins. Now the plugin crashes inside the browser, but the browser — and the OS — don't crash. Even more JS speed in Safari: 50% faster in 64-bit. "We have a whole new QuickTime in SL: Quicktime X. Hardware acceleration [yes!], color correct, new technology for streaming (HTTP streaming)."
3:24PM - Chinese character recognition: draw in chars. Mail: up to 2.3x faster. Safari: "4 has been in beta for a couple of months, today we're shipping Safari 4 for Leopard, Tiger — and Windows." Applause. "It offers unsurpassed speed… the scale is multiples of IE8's speed." Laughter. Acid3 100/100 (IE8 21/100) — again, more applause. This is a nerdy crowd if I've ever seen one.
3:23PM - Lots of little things, like text selection in PDF files. "In SL we've used a little AI to infer the structure of PDF documents for text selection." Jeez, I've never heard such loud applause for freaking text-selection in an OS.
3:22PM - "Finder: we love Finder. The user won't see any changes. But we rewrote it. Next: the dock. We built Expose into the dock — click and hold, voila, you get the window you want." Install is up to 45% faster. "More importantly, after you install Snow Leopard you recover over 6GB of disk space! Over half the footprint of the OS."
3:20PM - "We're very proud of Leopard… the challenge we set for ourselves was to build a better Leopard. What's that mean? Three things: lots of refinements across the board. Second: powerful new technologies. And third: Exchange suppport." Applause. "We decided to refine 90% of the OS."
3:19PM - "With Windows 7 you still have old technologies: DLLs, registry, disk defrag — no user should ever have to do that! — user account and security control, even more complexity. So that's Win7, same old technology. Fundamentally, it's just another version of Vista." Ouch.
3:18PM - "Leopard is the most successful software product Apple has ever had. Cover Flow, Quicklook, Time Machine… 'By far the best OS written for the majority of consumers.' By contrast to this…" Vista logo shows, laughter. Zing!
3:17PM - "Every notebook meets EPEAT Gold, and every one meets Energy Star v5 — we're proud to say it's the world's greenest lineup of notebooks. What does it deserve? Great hardware deserves great software." Bertrand enters stage left. "Good morning." Applause.
3:16PM - "Just a week and a half ago we updated the white plastic MB, so to complete the picture we're updating the MacBook Air today as well — now it's got a 1.8GHz for $1499 — $300 less than before. 128GB model for $1800… that's $700 less than before." Big applause. "We just leaped even further ahead."
3:15PM - "That's less expensive than the 13-inch aluminum MB it replaces!" Availabile today. Big applause. "That really completes the MacBook Pro family. The most affordable lineup we've ever had."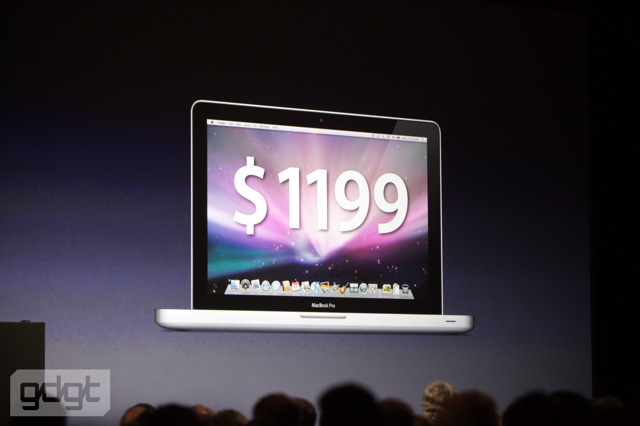 3:14PM - "We asked, at what point is it a MacBook Pro? So now it does 8GB RAM… built-in LED-backlit keyboard. Look further down, it's got FireWire 800." Yep, the 13-inch now has SD, FW800, and "it deserves the name: MacBook Pro. And it starts at just $1199."
3:12PM - 17-inch is keeping the ExpressCard slot — all units ship today. "The MBP is an amazing notebook computer, but we make another as well. We make a 13-inch — and today we're going to update that as well." Gets the integrated battery, just like the full MBPs — claimed up to 7 hours. "We challenged the engineering team to add in an SD card slot, and they did it."
3:11PM - Stock configs start with 4GB RAM, 250GB (and up), 2.53GHz CPU. The $2k model comes with integrated and discrete graphics though, the $1700 model only has the 9400M integrated graphics (which isn't super surprising). "Today we're updating the 17-inch as well."
3:10PM - Starts at $1699 — down from 2k! Excellent. "That's $300 less than before!"
3:09PM - "Why an SD slot? Our MBP customers have digital cameras — you can plug it in with a USB cable, but customers like to use SD. … but there's a lot more. It's the fastest notebook we've ever made, up to 3.06GHz Core 2 Duo — up to 8GB of memory." Applause and woos. Pretty hearing an audience of thousands drool.
3:08PM - New batteries have over 1k recharge cycles, up over 300 from before (supposedly). Batteries should last five years, "longer than the average life of the notebook." Same glossy display… so far. 60% greater color gamut. Something different: SD swapped out for ExpressCard. Ruh roh.
3:07PM - "It's built on the unibody architecture. Built-in: a revolutionary li-polymer battery. Gives up to 7 hours of battery life — 40% greater life."
3:06PM - Phil's talking up the unibody design system through the entire MacBook line. "We have a huge lead over everyone else in the notebook. I'm happy to show you a brand new version of the 15-inch MacBook Pro." Applause.
3:05PM - "No wonder everyone's racing behind us and following in our footsteps." Bertrand Serlet and Scott Forstall are going to be up today. "I get to begin with the Mac. The Mac products are the best they've ever been at Apple."
3:04PM - "Can you feel the love in this room? … This is a chart of OS X users in the first five years, 2002-07. Great growth, adoption, this is active users: up to 25 million. Something incredible has happened in the last two years… I have to scale the graph a little. We've TRIPLED the number of users." Big applause. "It's astounding."
3:03PM - Phil is on stage. Big applause and cheering — Steve-like applause, even. "Thank you, welcome to 2009 WWDC. We have an amazing week planned for you, it's incredible."
3:02PM - New Mac / PC video: PC welcoming the WWDC audience. "I want to be the first to wish you all a week with some innovation. But not too much. Please." Cut! "Maybe you could float a few ideas my way?"
3:01PM - Lights are dimming, crowd is starting to cheer.
2:57PM - "Welcome to the 2009 worldwide developer's conference." Applause. I'm going to paraphrase here: "Silence your damn iPhones." They're getting started in a few minutes.
2:54PM - We know, we know, the waiting is always the hardest. We should be about t-minus five minutes now.
2:42PM - Alright, we're in and seated! Franz Ferdinand on the sound system. This venue seats a couple thousand, and being that WWDC is sold out, we're expecting a full house.
2:33PM - We're waiting in the press corral, keynote entry is imminent!
1:53PM - We've got a new live updating system this morning (as you've probably noticed) — let us know what you think! Shout out gdgt, Peter, or myself on Twitter. Photos today by JD Lewin.
1:47PM - Alright, I'm here. The line of developers outside is pretty massive. Obviously the expectation is that we'll be seeing a new iPhone, but it's already clear Snow Leopard is going to play a big part of this keynote.
6:11AM - Hey there, thanks for joining our live coverage of the WWDC 2009 keynote with Phil Schiller (and whatever new iPhone he'll whip out of his pocket). Check back later this morning!