Are you ready for
iOS 6
,
Mountain Lion
, and maybe even some new gear from Apple? Check back soon, I'll be live from the Moscone Center in San Francisco for WWDC 2012!
11:54AM - Thanks for tuning in!
11:54AM - Oh, and be sure you check out the new gdgt! We've made a lot of changes ourselves, lately, and we'd love to hear what you think about the gdgt Score, gdgt Must-Haves, and all the new hotness!
11:53AM - As always, we'd like to thank the always-awesome team at Rackspace for powering today's live coverage! Those guys really went above and beyond to make it happen.
11:53AM - Well, no One More Thing necessary! Not bad.
11:53AM - "I hope you have a fantastic week, I want to wish you the best week and the best conference ever, thanks for coming to join us."
11:53AM - "The products we make combined with the apps that you create can fundamentally change the world. Really, I can't think of a better reason to get up in the morning."
11:52AM - "Ultimately it's why people choose to come to work at Apple and work with Apple. To do the very best work of their lives. To create products that empower people to do great things. To make a difference in the lives of so many people around the world."
11:52AM - "iOS 6 with over 200 new features in the world's most advanced mobile OS… only Apple could make such amazing hardware, software, and services. We are so proud of these products, as they're perfect examples of what Apple does best."
11:51AM - "OS X Mountain Lion, the 9th major release of the world's most advanced desktop operating system. It's the best OS X yet."
11:51AM - "You've seen some incredible products this morning. Let's review. The new MacBook Pro delivers extreme performance in a radical thin and light design with a stunning Retina Display. It's the most advanced Mac we've ever built."
11:50AM - "So what do you think?" Huge cheers from the audience.
11:50AM - Tim's back up. "Thanks Scott."
11:50AM - Coming this fall, support for 3GS+, 4th gen iPod touch, and 2nd-gen iPad+.
11:50AM - "When building maps, when we looked around we saw that the best apps for metro transit were done by 3rd party developers." So that'll be integrated. iOS 6 beta: today! Not that that wasn't expected.
11:49AM - Lost mode! Send a phone number for the lucky finder of your phone to call you back. Nice. "This is also an incredible release for all our developers. There's APIs for Pass Kit for PassBook, reminders API, in-app content purchases…"
11:48AM - "These are only 10 of the hundreds of new user features in iOS 6." Game Center challenges. Made for iPhone hearing aids coming soon!
11:46AM - Nice, when two turns are close together, it shows both signs.
11:45AM - As you might expect, Siri is who tells you where to go.
11:45AM - Demo done, and the crowd is cheering for Flyover. Demoing turn-by-turn directions. Scott's heading to Coit Tower.
11:44AM - Satellite view with Flyover. Pretty wild! If you saw that Google Maps demo last week, this is pretty similar. The crowd is pumped. "This is not a movie, this is being rendered in real time."
11:43AM - Everything is vector in new maps. Yes. Very yes. Inline info card with reviews and ratings. Scott hits into 3D seamlessly, not unlike what Google showed in maps last year.
11:42AM - Flyover: "We've been building a 3d photographic model of cities all over the world. Let me just give you a demo." Please do.
11:42AM - "Just ask Siri to take you somewhere and you're on your way. Ask questions along your route, like where can I get gas? And kids can ask the age old question." Are we there yet? 'You'll be there in 14 minutes."
11:41AM - "Once you find a place you'd like to go, tap the quick route button, we'll monitor the traffic, give you an ETA, and if it slows we'll start looking for a re-route. All of this works from the lock screen as well if it's plugged into your car." Surprised applause.
11:41AM - Traffic view shows slow traffic view and incidents. Damn. Uses anonymous real-time crowdsourced data for traffic. Well, well, well. Turn-by-turn navigation! Huge applause for that one. And long overdue.
11:40AM - "Beautiful, beautiful apps. Part of maps is local search — you have to be able to find points of interest. We've ingested over 100 million listings around the world. Once you find something, pull up the info card." Yelp integration. Traffic service!
11:39AM - "In iOS 6 we've built an entirely new mapping solution from the ground up, and it is beautiful. We're doing all the cartography ourselves… this is a worldwide effort, we're covering the world."
11:39AM - "Single app mode locks the iPad so students can't look up the answers in Safari." Next: Maps! Hooting from the audience.
11:38AM - Disable and enable controls custom. "This is great beyond children with autism. This is single app mode. Some schools are starting to administer tests with the iPad!"
11:37AM - Next: Guided Access. "We're really proud of how the accessibility community has been adopting iOS devices. We want to make the experience for children with autism even better."
11:36AM - Ha! If you delete a pass, it shows a little shredder. Apps are live: gate change, boarding pass updated right in the app. Very slick. Big applause.
11:36AM - Wonder what the Square folks thinks of this — and because of the QR code support, it seems like the LevelUp folks could really benefit from integrating with Passbook.
11:35AM - Demo time! Showing templated tickets, store cards, even shows balance. So hot.
11:35AM - That is very nice.
11:34AM - New app: Passbook. "The simplest way to get all your passes in one place. … There are a lot of great apps that put your boarding passes and tickets right into the app." United's app, Starbucks, movie tickets… "The problem is, when you get to the movie theater, you have to fumble around to find the app and then the ticket."
11:33AM - VIP emails come straight to lock screen like a text message. Flagged and VIP mailboxes built in. Add photos and video from the compose window, and open password protected docs. Pull to refresh is getting a surprising amount of applause. Hey, Sparrow. Just do it.
11:32AM - Available on Mac, Apple TV, via web, etc. Next: Mail enhancements. VIPs.
11:31AM - "Choose your photos you'd like to share, choose the friends you'd like to share it with, and you're done." Commenting built in!
11:31AM - If the app's already installed, the app can open from Safari and pick up right where it was on the web. Next: Photo Stream, in iOS 6, shared photo streams!
11:30AM - Photo uploads to web forms! Nice. New: Smart app banners. "If someone goes to your site, Safari can put up a banner to let them know about your native app in the App Store." Nice, hopefully we'll see a fewer interstitials.
11:29AM - "Now, as soon as you add it to the reading list, we'll download and cache the story." Instapaper: still better! I think.
11:29AM - "Safar is the best, and the most popular mobile web browser on the planet. About 2/3rds of all mobile web traffic comes from Safari on iOS. You saw that we're adding iCloud Tabs, and we're also adding Offline Reading List."
11:28AM - "You can unify your phone number and Apple ID. So if someone calls your iPhone, you can answer that call on your iPad or even Mac. We're doing the same thing with iMessage."
11:27AM - "On iOS 6 we're enabling FaceTime over cellular." Big applause and cheers for that one.
11:27AM - Repeated calls: if someone calls multiple times in a short period of time because it's an emergency, the call gets put through. Sweet. Next: FaceTime. There's a catch: it only works over WiFi…
11:26AM - "Many of you are like me who've been awakened in the middle of the night. This tells your phone not to bother you with interruptions. Those notifications will still come, but they won't light up your screen or make sounds. You get fine-grained control over which calls to receive."
11:26AM - That is pretty slick. Sometimes it's the simper features. "Remind me can also set up a geo-fence reminding you to call that person back." Next up: Do not disturb.
11:25AM - "You've probably been in a meeting where you can't answer it right then… on iOS 6 there's a new control for an incoming call, slide it up to reply with a message or be reminded to call back later."
11:25AM - Next: phone app! Yes!
11:24AM - Contact list integration! FB events and birthdays will also appear in your calendars. "We've taken that same Facebook integration and brought it to the Mac."
11:24AM - "We've also integrated it with Siri. And we've taken this deep integration and made it a public API so it's easy for apps in the app store to integrate with Facebook. We've also integrated it in the app store, so you can like apps and see what apps your friends like — same with music, TV shows, and movies."
11:23AM - "We're also making it really easy to post to Facebook from many of our apps. Post photos from Photos, post location from Maps… we've also integrated it right in with Notification Center. Anywhere you are you can tap to post to Facebook and Twitter."
11:22AM - Next: Facebook integration: "We've been working very closely with Facebook to create the best FB experience ever on a mobile device."
11:21AM - Mandarin and Cantonese for China. Local search is going global, too. And Siri comes to iPad!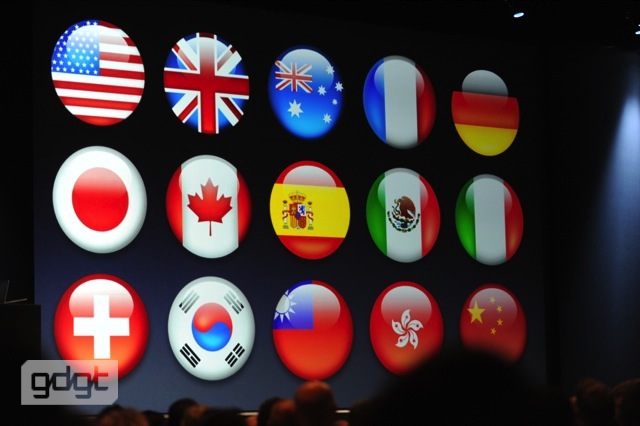 11:21AM - "Keep your hands on the wheel and your eyes on the road." Additional international support! "Recently we added Japanese. And now we're adding French for Canada… eh?" Har. "We're adding Spanish for Spain, Mexico, and the US. Italian; for Switzerland we're adding Italian French and German. We're adding Korean." Big cheers from the Korean folks!
11:19AM - Eyes Free: "Now, you've heard of hands-free…" Siri auto integration!
11:19AM - Demo time's done. "Those are just a few of the things Siri's learned in iOS 6. Before Siri did so much, but now it's just incredible." Wow, that list is pretty huge.
11:18AM - Siri can (finally) launch apps!
11:18AM - Movie integration! "What movies are playing at the Metreon?" Shows the list, has trailers built in, that is pretty nice. Although at this rate there may not be a need for some of these major vertical-iOS apps like Yelp and IMDB and Fandango.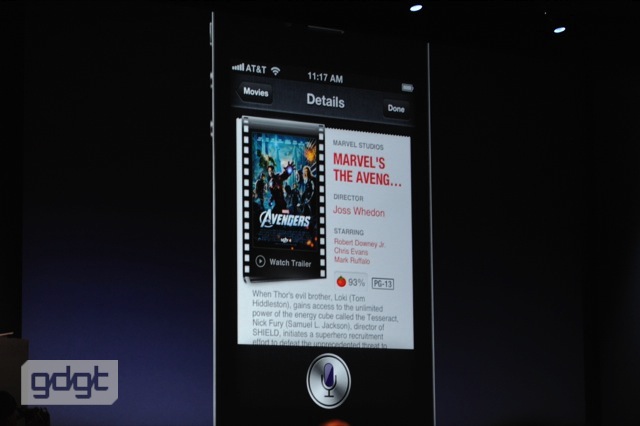 11:16AM - Restaurant integration via Yelp and OpenTable. Sweet!
11:15AM - So, have you already the MacBook Pro with Retina display to your gdgt Want List yet? Soon as this liveblog is over, I'm all over it.
11:15AM - "What is Buster Posey's batting average." Siri says 290. "Siri knows about Baseball, but she also knows about basketball. Who is taller, Lebron or Kobe?" Siri: "Lebron James appears to be slightly taller." Heh.
11:14AM - Siri's up first! "If you're my kids you can just chat with it for a while. In this 8 months Siri's been studying up and learning a lot more. Let me just show you what she can do now in iOS 6. The first thing Siri has learned is all about sports. What was the score of the last Giants game" Siri: "The Giants were downed by the Rangers…" Boos. Sports!
11:12AM - "And this year is no exception: iOS 6." Big applause.
11:12AM - Game Center: more than 130 million people using it, 5 billion scores per week. "All of this results in some very, very satisfied customers. … one of the reasons our customers are so satisfied is that every year we give them a great new version of iOS."
11:11AM - iMessage: more than 1 billion messages per day. Twitter: 3x growth in iOS users, 10 billion iOS 5 tweets, 47% of which are photos. Impressive numbers, especially for the Twitter folks.
11:10AM - "They released their latest, 4.0, about the same time we released iOS 5. And about 7% of their customers are running the latest version." Burn! iOS 5 review: 700 billion push notifications per day, 1.5 trillion total push notifications. Yow.
11:09AM - "I find it incredible that through the end of March we've sold more than 365 million iOS devices. And more than 80% of our customers are running the very latest version of iOS, version 5. Now if you compare that to the competition…" Scott trails off, lots of applause.
11:09AM - Huge applause. Forstall time for an update on iOS. Big applause.
11:08AM - "That is how you get your customers to upgrade. If you buy a Mac today, your upgrade will be free. And for those of you at WWDC, you'll get access to a near final developer preview today."
11:08AM - Mountain Lion: $19.99. Big applause. For upgrades both from Lion all the way back to Snow Leopard.
11:07AM - "Mountain Lion is also a fantastic release for developers, with over 1700 APIs."
11:07AM - New Chinese input method, new Chinese dictionary, more fonts, Baidu search in Safari, top Chinese email service support as services. Alright.
11:06AM - Tons of new ML features: Mail VIPs, rename from title bar, Launchpad search, Offline Reading List, tons more. Craig wants to highlight features for China.
11:05AM - Close! But Craig lost. Sorry dude. "I guess with an outfit like that you were sure to win." Har.
11:04AM - Racer OS X has been summoned to the stage. "This is looking a little more serious than I was anticipating." Game invite from iPad to Mac.
11:04AM - Craig's Game Center name: Hair Force One. Ya damn right!
11:03AM - Game Center support. Mac to Mac and cross-platform iOS to Mac support. Interesting! Microsoft tried this a while back on Xbox Live, didn't really work out super well. Maybe Apple can make it work.
11:02AM - AirPlay Mirroring! "This is fantastic for the classroom and meeting room…" Yeah, I can definitely get excited about being able to throw my screen up for others to see without cables or projectors.
11:01AM - Looks like we have an official name! "MacBook Pro with Retina Display" Well, ok then.
11:01AM - App Store updates, Mac OS updates, and backups while it sleeps. Nice! "It automatically refreshes data, it's totally silent, goes easy on your battery, and it's compatible with recent MacBook Airs and our new MacBook Pro with Retina Display."
11:00AM - New technology: Power Nap! "We all love using our Macs, but wouldn't it be great if when we weren't using them they were still working for us? Power Nap keeps your Mac up to date while it sleeps."
11:00AM - That dictation he just took was REALLY fast. Either it's not cloud-connected, or that demo was canned.
10:59AM - These demos are always a challenge to describe, there's a lot going on on-screen. So, you know, we've got some photos.
10:58AM - Tab view shows live pages on each tab as you gesture through. Kinda neat, wonder if that'll make its way to iOS. Demoing sharing now, tweeting out photos. No word about Facebook so far!
10:56AM - New scrolling architecture based on Core Animation, "it's lightning fast and really awesome." Showing docs and tabs on his iPad and iPhone.
10:55AM - iCloud Tabs: open and access tabs from all your other devices. Nice! If only I used Safari… New feature: Tab View. Use gestures to visually navigate tabs. Demo time!
10:55AM - Next: Safari. "It has the fastest javascript engine of any browser on the planet. But the first thing oyu'll notice is the new unified search field." The Chrome Omnibox, basically.
10:54AM - Built-in sharing. Looks very similar to iOS sharing.
10:53AM - "Talk into Facebook if you want. Or even 3rd party apps like Microsoft Word. It's that simple." Okay, well, how about telling us how it works? Because I'm assuming it requires an internet connection.
10:53AM - Temporarily disable banners and messages — if you connect to a projector, they're disabled automatically. Next up: dictation. "We're bringing dictation to the Mac!" Applause.
10:52AM - Notification Center. "In the past, each app has had its own way to tell you something. We've replaced this with a consistent notification system — banners and alerts." You know, I have been saying for years that Apple should have built Growl right into the OS. Stoked we're finally there, even if it isn't actually Growl.
10:51AM - Not the most interesting demo: it's, um, a bunch of documents. Okay, but now Craig's showing real-time mobile updating of a Pages document on his phone. Not bad!
10:50AM - Messages: showing iMessage integration. Conversations from mobile are synced to the desktop. Next: Documents in the Cloud.
10:49AM - Showing the Reminders app — which I'm assuming syncs with the iOS version. Supports multi-touch gestures, and has location-based reminders on the desktop like in mobile. Notes app. That's well and good, but I'll stick with Simplenote (or Evernote in a pinch).
10:48AM - Demo time!
10:47AM - New feature: Documents in the Cloud! "A simple new way to store your documents in the cloud." It's in Pages, Keynote, etc. — new developer SDK.
10:46AM - "iCloud has taken off like a rocket with over 125 million registered users. … whether you're working in Mail, with your contacts, all your content is up to date across all your devices. In Mountain Lion we're introducing three great new apps: Messages, Reminders, and Notes."
10:46AM - Lion time! Man, Craig is burning through this thing, slow down! Mountain Lion: 200 new features, detailing 8 today. iCloud is up first!
10:45AM - 26 million copies shipped: 40% of OS X users are running Lion. "As a basis of comparison, Windows 7 took 27 months to get to that same level." Okay, yeah, but the numbers / scale of Windows is WAY different.
10:44AM - OS X time, Craig is up. "We're on our 8th major release of OS X. It's the power of Unix with the simplicity of the Mac — over 60 million users, over triple what we had a few years ago."
10:44AM - So what are we calling this thing anyway? I guess it's just the MacBook Pro.
10:43AM - Phil is touting the environmental creds. "It is the future. And the best thing is, it starts shipping today. Big applause.
10:42AM - There it is, starts pretty high. $2199. Eh. I'm buying one, whatever.
10:42AM - Phil: "Let me tell you about the starting configuration." $2199
10:42AM - Ive: "We set out to design something extreme. … we designed the very best computer for today and for the future." Video's over. Cheering from the audience.
10:41AM - This thing is clearly going to be pretty expensive — otherwise I'm not even sure why Apple would keep the vanilla MacBook Pro 15-inch around.
10:40AM - Ive: "It truly takes an obsessive approach to make a product this meticulously engineered." Clearly.
10:40AM - Ive: "The thermal system operates in a way that is nearly imperceptible to users." Asymmetrical fan blades splits the fan noise over more frequencies, so they are perceived as quieter. What.
10:39AM - Ive: "The new MacBook Pro would seem to be a contradiction. It's built for extreme performance, but it's also remarkably portable. … One of the most significant challenges was completely changing our approach to designing the display." No separate cover glass on the display, it's all built directly into the unibody lid.
10:37AM - The shape and thinness of the display / lid is wild.
10:37AM - Ive. "This is without a doubt, the very best computer we've ever built." What. The. Hell. This thing looks incredible.
10:36AM - Ive: "To create something genuinely new, you have to start again. I think with great intent you disconnect from the past."
10:36AM - FaceTime HD camera, dual mics ("uses beam-forming to enable a new generation of voice applications"), and great new speakers. Video time!
10:35AM - Adapters! Thunderbolt to FireWire 800, ThunderBolt to gigabit Ethernet. Backlit keyboard, 802.11n, BT 4.0.
10:34AM - SD, HDMI (first time on a Mac!), Thunderbolt, and 2x USB 3.0. Ruh roh: MagSafe 2: "We had to make it even thinner to fit on this notebook."
10:34AM - Spoiler alert: this thing is probably going to be expensive. "Up to 7 hours of battery life, up to 30 days of standby."
10:33AM - "Here are a few of the things on the inside: the fastest CPUs we can put in a notebook. Quad-core i7 up to 37GHz. Up to 16GB of RAM. The new Kepler nVIDIA GPUs. And of course it's built around flash storage. You can configure it with up to 768GB of internal storage." Well, damn.
10:32AM - "Everything inside is next-gen and was reinvented to drive this incredible design. Now, before I take the bottom off, isn't the bottom of our computer even prettier than the top of anyone else's?" If you say so, Phil!
10:32AM - Photoshop is updated for Retina. AutoCAD updated too. Diablo III is updated!
10:31AM - "There are over 3 million pixels left over! … Now, apps have to be updated to take advantage of this new display. If they aren't, they'll be pixel-doubled to come up to size."
10:30AM - "You're not looking at 4x the resolution of the photos as you work on them. Final Cut Pro 10 is being updated as well. That video area in the upper right? That's 100% pixel for pixel 1080p video." Wat.
10:30AM - Ships with Lion, which will work with it. Mail updated, Safari updated ("Surfing the web is like reading a magazine.") iPhoto updated. "We're also updating our professional applications as well. We have a major update to Aperture, this is a breakthrough for a photographer."
10:29AM - "The quality of this display is the best we've ever made. Better contrast ratio, deeper blacks … reduced glare and reflection of the glossy display by 75%." Yes!
10:28AM - Wow. This is insane. "This is the world's highest-resolution notebook display."
10:28AM - "It's 15.4 inches across, but it's pixel density — are you sitting down? It's 2880 x 1880, four times the amount of pixels."
10:28AM - "It weighs just 4.46 pounds, the lightest pro notebook we've ever made. But the most amazing thing about it is this gorgeous display it's built with. Yes. It is a Retina Display." Huge cheers and applause. About time!
10:27AM - "The next gen MBP is 0.71-inches thin — you see the difference. It's 25% thinner, a dramatic amount. It's about as thin as a MacBook Air."
10:27AM - "It's a true breakthrough in engineering — there's never been a notebook this thin, this light, this powerful for professional use. Don't worry, I'll tell you all about it in just a minute, I just want to enjoy this…"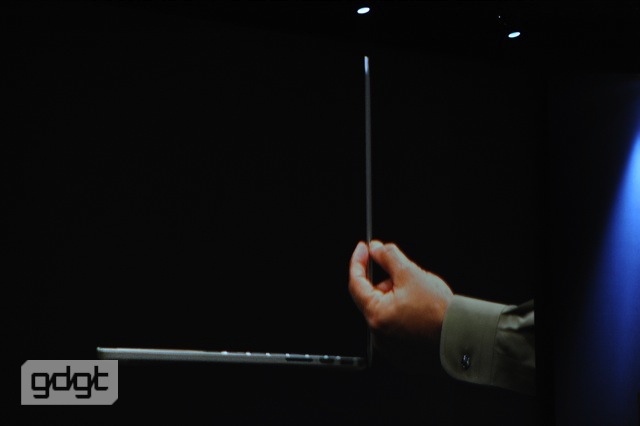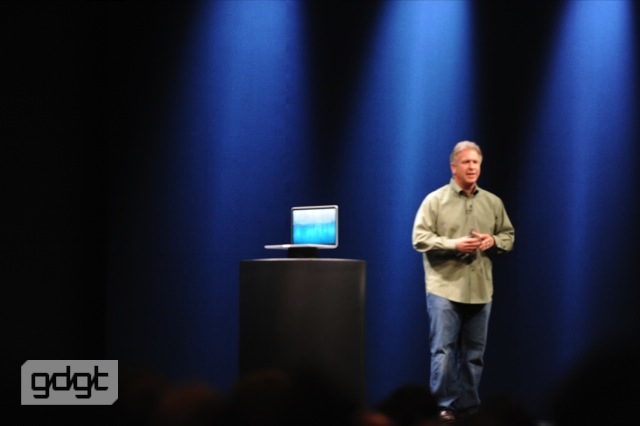 10:26AM - "I know it's tough to see from the audience to see something so thin and light and small from so far away. It's thinner than my finger!"
10:26AM - Thin. Very thin.
10:25AM - "I'll show it to you now. The next generation MBP is the most beautiful computer we've ever made. It's dominated by an amazing, magnificent new display."
10:25AM - "Would you like to see it?"
10:25AM - "Let me start with some key ideas. You want it to have a killer new display. I do." Big applause. "You want it to have an architecture built for the future. You want it to be radically thin and light."
10:24AM - "So what would make a next-generation MacBook Pro. Want to know the answer?"
10:24AM - "With the MBA, the engineering team did something bold. They reenvisioned the consumer notebook, and were aggressive in embracing new technologies, and discarding legacy technologies. Things we could eventually do without."
10:24AM - Tons of oohs and ahhs.
10:24AM - "So what's next? I need to make some room on the slide here."
10:23AM - "Across the board, MBA and MBP updated today. Faster processors, graphics, memory, storage, USB — nobody turns over their entire line as quickly and completely as we do at Apple."
10:23AM - 15-inch: $1799 and $2199 totally decked out. Looks like the optical drive is staying. Bummer. Ships today!
10:22AM - MBP now all USB 3.0. Configs: $1199 and $1499.
10:22AM - "We've got up to quad-core i7, memory's also faster, and integrated graphics. As you know, the 15-inch has discrete graphics, and we've upgraded that too." New nVIDIA Kepler with up to 1GB video memory.
10:21AM - Next up: MBP! "The quintessential professional notebook. They care greatly about having incredible speed for music and video. First, we're updating the CPUs with Ivy Bridge…"
10:21AM - Here are the configs! $999 and $1099 on the 11-inch — "That's $100 less than before." 13-inch: $1199, $1499, both $100 less than before. "Best of all, these ship today!" Applause.
10:20AM - Single USB 2.0 / 3.0 ports. Aight. FaceTime HD. Phil's mic is driving me crazy! Lots of noise.
10:19AM - "We're also adding USB 3.0. It's really important, it's up to 10x faster than USB 2.0. This is how other people do it."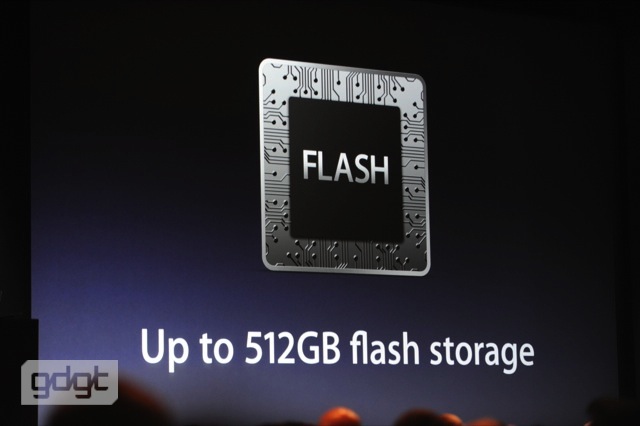 10:19AM - "As you know, the MBA is built entirely around flash storage — now up to 512GB (half a terabyte!) of flash storage. One of the reasons we use it is because it's so fast — but now it's up to twice as fast as before, up to 500Mbps of read speed!"
10:18AM - "Latest processors… Ivy Bridge, up to 2GHz in i7 speed. Configure it with up to 8GB of memory, and it's faster memory. The integrated graphics they run on are up to 60% faster."
10:18AM - "It's revolutionized the very idea of the modern notebook. Everyone's trying to copy it, but they're finding it's not so easy. Our customers love how thin and light this notebook is. We're going to update it."
10:17AM - "We have some really nice updates to each of them that I'm excited to tell you about." Air's up first.
10:17AM - Phil: "Good morning everyone. Hope you're having fun, I am. Today I get to talk to you about the MacBook lineup. It is by far the best in the industry. The Air and the Pro each stand out."
10:16AM - Hardware's up first! Phil Schiller's up.
10:16AM - "Today we're announcing exciting new changes in our notebook lineup, and major releases in OS X, and iOS — the world's most advanced desktop mobile and desktop operating systems making them even better. So you can make even better apps."
10:16AM - Big applause. Tim: "On behalf of Apple, thank you for all the incredible apps that you've done for us." Well, not REALLY for you, right? "We love building the platform and store for you to realize your dreams."
10:15AM - Pretty touching stuff, no doubt.
10:14AM - iPad + special education apps with kids with learning disabilities. Dev: "Apps have the biggest impact on humanity right now." .. "I couldn't believe I could walk through the forest. It's a miracle."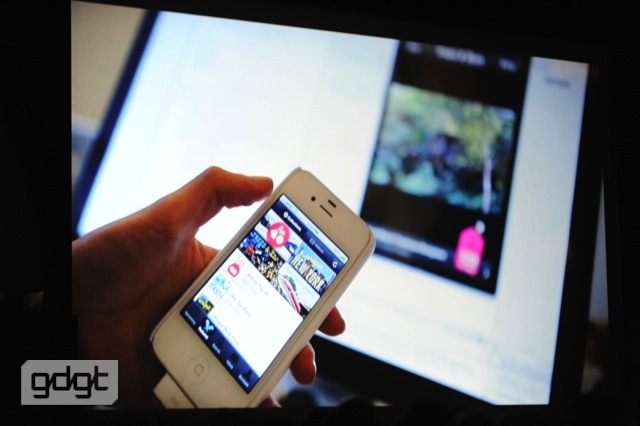 10:13AM - Airbnb app, treehouse cottage in Vermont. Proprietor: "We don't think of it as a business, we think of it like meeting new friends." Airbnb: "Apple makes it so easy for us to stretch our imagination. It opens up this world of possibility."
10:11AM - Teacher in India showing how he uses a human anatomy app to teach children. Developer: "Our anatomy apps are used in universities, but also schoolchildren in India."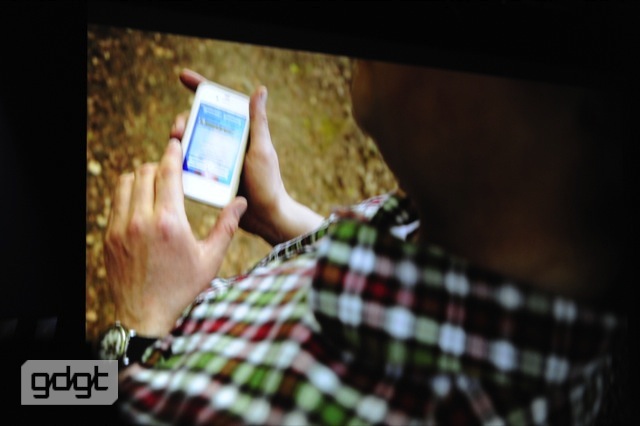 10:09AM - Showing a blind person walking in the forest with iPhone and GPS. Crazy. Developer telling the story of how he came to build this app: "People write me from around the world to tell me that 'your app has changed my life.'"
10:07AM - "There are such heartwarming stories out there of what difference the combination of our incredible devices and your amazing apps have made in peoples' lives." Video time!
10:07AM - "Despite these blow-away numbers, what we do together is more important than what any set of numbers can reflect. Our goal — and we suspect the same is for you — has always been to do great work and make a difference in peoples' lives."
10:06AM - Damn. Those are some crazy numbers. "It's become an economy in and of itself. The App Store operates in over 120 countries, and we're adding additional countries." Next target: over 150 countries.
10:06AM - 30 billion app download milestone. Wow. "This is a number so mindboggling and unthinkable not too long ago. We've written checks for over 5 billion dollars to you guys."
10:05AM - "This compares to just a few hundred of our competition." Pretty sure that's not actually true.
10:05AM - "This store has the largest number of accounts with credit cards anywhere on the internet. And thanks to you have we have over 650,000 apps on that store." Big applause. 225k apps specifically made for iPad.
10:04AM - "I wanted to started this morning with a few updates on App Store. The size and momentum are just phenomenal. We have over 400 million accounts on the App Store." Applause. "These are 400 million accounts with credit cards and one-click buying so it's simple and elegant to buy your apps."
10:04AM - "We have a great week planned, over 100 sessions and over 100 hands-on labs… you can get just about any question you might have answered. We have over 1k Apple engineers here — we closed Apple for the week."
10:03AM - "It's the longest running developer conference we know of anywhere — it sold out in just an hour and 43 minutes! This is truly a worldwide conference."
10:03AM - "We have a great week planned for you, and some really cool stuff to show you this morning. This is our 23rd WWDC. Yes, it's older than many of you are."
10:02AM - Huge applause. "Good morning. Good morning!"
10:02AM - Siri: "I love you guys, but it's hard for me to get emotional. Because my emotions haven't been coded yet." Tim is up on stage!
10:02AM - "Has anyone been using the new Samsung? Not the Galaxy, the refrigerator." Womp.
10:01AM - "Hey, anyone been working with Ice Cream Sandwich or Jellybean? Who's making up these names, Ben and Jerry?" *rimshot
10:01AM - "I found 396 venture capitalists close to you. Hey, speaking of developers, how many devs does it take to change a lightbulb? None, that's a hardware problem." Oh Siri!
10:01AM - Siri: "Hello, welcome to WWDC! I was asked to warm up the crowd, which will be easy because it's 75 degres." *rimshot
10:00AM - Music going down, lights dimming!
10:00AM - One More Thing or drinks are on us! Actually, come to think of it, I don't think I've ever seen Tim Cook do a One More Thing. Wonder if he'll snag that little piece of Apple stagecraft.
9:56AM - Presentation announcement: "We'll be beginning shortly." Hope you're ready for some super long software demos!
9:53AM - Looks like we're just under 10 minutes to kickoff! Granted, WWDC keynotes are sometimes slightly late depending on how quickly they can get people in the door.
9:51AM - Music this morning: hit and miss. No oldies. Although not every Apple event is set to a soundtrack of Dylan, Stones, and Beatles.
9:48AM - So this massive auditorium at the Moscone Center seats 6000-8000 people if I recall. And as is the case with the WWDC keynote every year, the line of folks vying for a seat was well around the long San Francisco city block.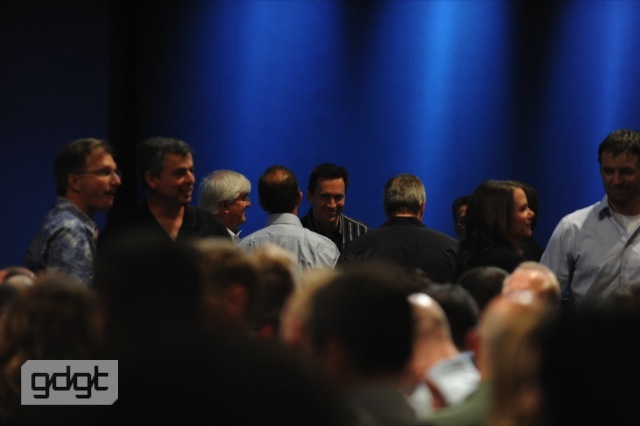 9:46AM - Not only is he great with the glass, when I've got someone shooting with me (which isn't the case at every Apple event — venue size depending!) that means I'm able to actually provide better commentary as we go.
9:44AM - Really stoked to have my old pal JD Lewin back photographing with me today. He and I have been shooting together for years.
9:42AM - Alright, I'm in and seated, and it's already a mad house. Good luck getting a 3G/4G WiFi hotspot working in this room. Good lord.
9:28AM - Doors are going up! Next: we all run for the seats.
9:01AM - Alright! We are at the Moscone Center mingling with a very excitable press crowd. T-minus one hour!
7:59AM - Good morning! I'm getting ready to rumble and heading over to the Moscone in a few here — maybe kill some time on the new and improved gdgt!
4:57PM - Are you ready for iOS 6, Mountain Lion, and maybe even some new gear from Apple? Check back soon, I'll be live from the Moscone Center in San Francisco for WWDC 2012!